A realistic romance movie is always about romance based on practicality instead of happily ever after.
It is a movie inspired by real events or true emotions, not fairy tales and dreams. It is a movie to which you can relate.
A realistic romance movie doesn't tell you that you should be horrible to anyone and expect them to forgive you because you made a speech in front of their colleagues. It reveals, instead, how important your words and actions are.
You learn right from wrong in a realistic romance movie. It shows characters coping with the repercussions of their actions, not being praised for a brief shining moment.
Most romantic movies seem to be a little over the top, but there are also a few realistic romance movies that you can actually learn from. There is no need for romantic movies to be cheesy, corny, and fake.
The concept of realistic romantic movies or rom-com (romantic comedies) is sometimes mocked. Find the right ones, and as if they have been based on fact, you will actually enjoy them.
Here is a list of some realistic romance movies that you can learn from:
1. The New Romantic
This movie was released in 2018 and is full of fresh faces. This film sheds light on dating in the modern age, instead of a fairytale-like romance.
It reflects the absence of romance that we sometimes see where the equivalent of sweeping someone off their feet is swiping right.
This movie (The New Romantic) follows Blake (Jessica Barden) through her life of love… or lack thereof. She discovers what romance really is and what she really wants it to be.
This film makes you question a lot about what we think is romantic and what we want from a partner.
2. A Swedish Love Story
The kind of innocent beauty that gradually fades away throughout adulthood distinguishes youth. This is among the most interesting realistic romance movies. "A Swedish Love Story" by Roy Andersson is a prompt reminder of the fresh viewpoint of youth on life and love.
In an apathetic world that is drowned in trouble and suffering, two teenagers find each other. Annika and Pär's parents battle with internal demons, ignoring their children's issues.
The protagonists construct their own intellectual world through a primary erotic relationship, which is free of teenage patterns and conventional aspirations. The young couple shares tenderness and emotion, despite the discouraging attitude of the environment.
Annika and Pär's neglected love story does seem like a valuable gem lost in a muddy field. The two children's excessively beautiful faces visualize the grace of their pure, romantic hearts.
In addition, the impressive scenery of the Swedish landscape, where their romance mostly takes place, looks like the real, disappointing world's opposition.
3. My Best Friend's Wedding
Cameron Diaz, Julia Roberts, and Dermot Mulroney star in this 90's classic.
We follow our anti-hero, Julianne Roberts, from the start, who is determined to break up the wedding of her best friend because she finally wants to be with him after years of maybe.
You would assume she is going through these challenges in the shenanigans and even a classic sing-along scene to eventually be with the man she has lusted after for years.
Instead, we see a woman who is greedy and a little deranged and ends up alone. We see concerns resolved by a couple who are in love. We also learn how important a true friend can be.
4. Blue Valentine
As it usually happens, one day, Cindy (Michelle Williams) and Dean (Ryan Gosling) meet each other. They are young, they are hardworking, and they are in love.
Marriage follows their relationship, and the birth of a daughter soon follows marriage. Both of them find their lives formed according to a traditional standard within a short period of time.
Dean's got Cindy, Cindy's got Dean, and life continues. During this path, however, Cindy gradually becomes detached from her former motives that contributed to her present lifestyle.
By comparison, Dean watches his disappointed wife drift away; he loses himself and is overcome by his shortcomings in his attempts to get her close.
The film illustrates Dean and Cindy's history and presents, in parallel, in search of the causes behind the decay of their love story. What's gone wrong? Nothing is able to remain intact, neither body nor mind, by the ravages of time.
Sometimes precious objects lose their charm, are covered by a dense layer of dust, and unfulfilled dreams look more like yearnings if they remain grounded somewhere in the past.
5. The Big Sick
The Big Sick is among the best realistic romantic movie since it is based on the true story of how Kumail Nanjiani, the co-writer and main character, met his real-life wife, Emily.
The movie begins with a cute meet-up. They begin an enjoyable relationship, but because of cultural differences, they end it. Emily ends up in the hospital with a critical illness shortly after the split.
Kumail stuck around to face her outspoken parents, stand up to his own family and know what he really wants, even though he is no longer together with them.
This is a love story, unlike the majority of romance movies. This highlights the external challenges that are frequently omitted from film plots but are issued in a serious relationship that we all face.
6. Léon Morin, Priest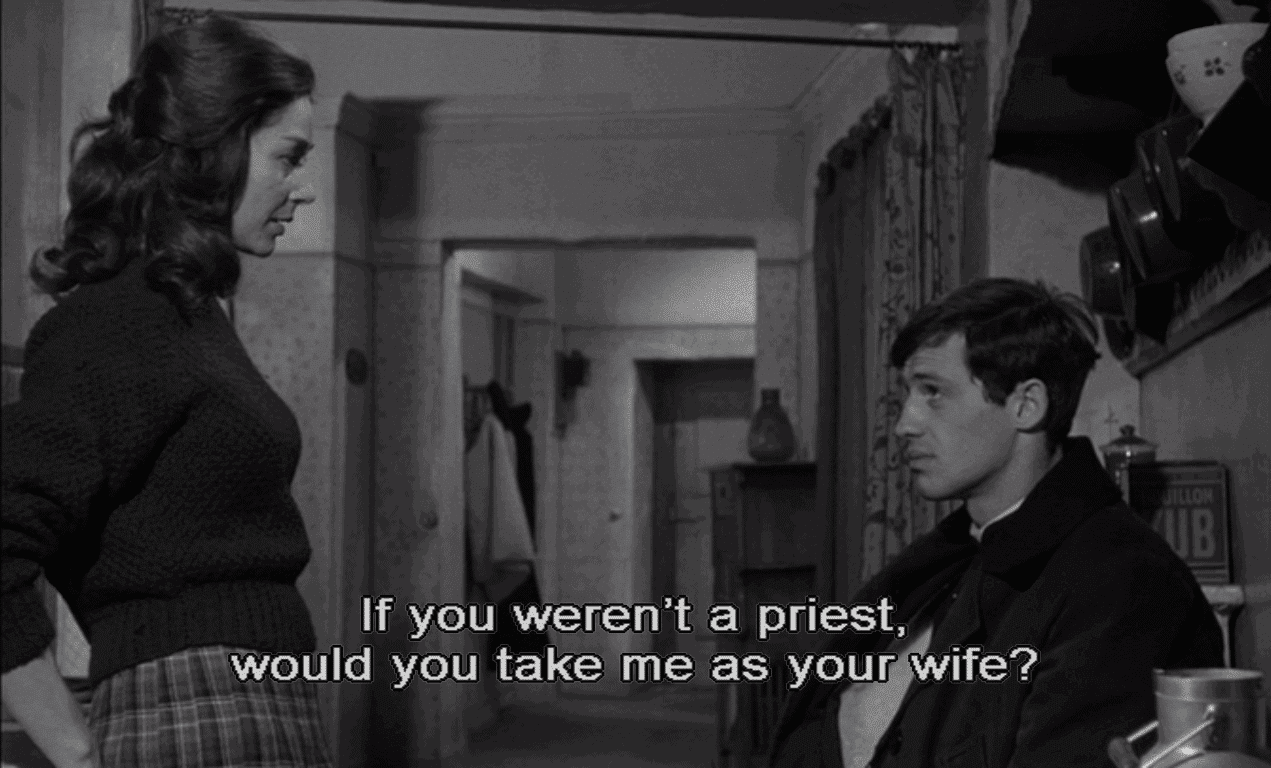 Among the leading figures of the Nouvelle Vague, Jean-Pierre Melville had based his attention on crime. In 1961, Melville placed a very different subject under a microscope, and so his exceptional film "Léon Morin, Priest" took place.
Barny (Emmanuelle Riva), an atheist communist, is forced to rethink her aversion to religion by an attractive Catholic priest (Jean-Paul Belmondo) during the German occupation of France.
She visits Léon frequently in his room after Barny's first confession in order to share conversations about ethics and religion.
What would lead a grown-up woman to doubt her strong perceptions? At the height of her sensuality, Barny is a young widowed mother, and she clarifies this matter mentioning her attraction to a charming woman.
Léon remains focused on the theoretical scope of his relationship with Barny; he never makes it obvious, even though he experiences sexual tension. The spectator is, of course, inspired to consider the deeper thoughts and desires of Léon.
While Riva's gentle eyes seeking a reaction from a man she incurably loves are hard to forget, a happy ending to this platonic romance will never happen.
In order to show that inherent skill and faith are inextricable from the psychology of humanity and, even more, they are different facets of the same coin, the film is set in an ideal space-time and social setting.
Some people choose to share their lives with friends, while some others dedicate themselves; in both cases, the scope is to love and be loved.
7. It's Complicated
This is one of the best realistic romance movies. This movie shows audiences that twenty-somethings with glowy skin are not the only ones with romance in the brain.
Alec Baldwin, Meryl Streep, and Steve Martin all starred in this relatable and hilarious romantic comedy about dating after divorce.
It says to older audiences that there is still love out there. This illustrates to younger audiences that growing up does not mean that you stop making mistakes.
And the contrast between a stable relationship and a chaotic one makes it very clear.
8. Before Sunset
Before Sunset is a remarkable film that subtly brings introspective thoughts on many life-long issues to the surface; even more, from a technological point of view, it is impressive.
Richard Linklater succeeded in generating deeper queries on one of his favorite subjects through this brilliantly synthesized movie: the long-term handling of time.
Celine (Julie Delpy) and Jesse (Ethan Hawke) meet in Paris nine years after spending a dream-like romantic day in Vienna. During these nine years, several circumstances have been established: Celine has a good career, and Jesse has a family.
In order to promote a novel that he (Jesse) wrote about his short love story with Celine, he visits Paris, where Celine lives.
Jesse is at a book signing, and unexpectedly, Celine is standing in front of him. The camera watches them walking and chatting until the audience forgets that he is watching a movie and gets the feeling that this couple is eavesdropping.
Once again, before Jesse takes a trip to America, he and Celine have one day to spend together at their disposal. The protagonists are unable to escape the electric vibes between them during these hours.
They come up against their life-defining unpredictable occurrences and decisions seamlessly. What would Celine and Jesse's lives be like if they had been together nine years earlier? This is the main issue that this film is about.
Just one fact remains apparent until the end of the day, even before Celine mentions it: Jesse is going to miss this flight.
9. The Break-Up
The Break-Up is a 2006 romantic comedy starring Jennifer Aniston and Vince Vaughn living in a luxurious condo. Then, it takes a toll on their long-term relationship.
Though at times over the top, this romantic comedy is one of Hollywood's most realistic. The Break-Up is one of the most interesting realistic romance movies.
This is a couple that can't seem to be letting each other go. They are youthful, petty, and jealous. Although both of them realize that they are not meant to be together deep down, they are relaxed and can not seem to move on from a turbulent situation.
This is a hilarious movie full of awkwardness. Plus, the beautiful Jennifer Aniston is featured. But, it also reveals how a true relationship unfolds.
10. Three Times
How is it possible for love to fail to achieve a final destination in several ways? "Three Times" is an interesting film of Taiwanese New Wave Cinema and a visual masterpiece intended to reveal three separate instances of incomplete romance.
A soldier attempts an unsuccessful search in 1966 for a girl who works as a hostess at a pool bar, traveling to one location after another.
A prostitute falls hopelessly in love with a client during the early years of the 20th century.
Finally, in modern Taipei, until they find themselves alienated from each other, a female pop singer and a male photographer have fallen into the abyss of technical means of communication.
The tales are called, respectively, "A Time for Love," "A Time for Freedom," and "A Time for Youth."
This movie is an attempt by Hou Hsiao-Hsien to make it clear that love is not always sufficient: the pool bar hostess is clearly interested in the young soldier in "A Time for Love." She is never there for him, though.
Maybe the cherished customer of the prostitute does not reply to her kind of love in 'A Time for Freedom,' but he is affectionate.
Both characters are disturbed and unfocused in "A Time for Youth"; they handle their feelings clumsily and neglect their chances of happiness.
Sharing feelings is of crucial importance and, at the same time, incredibly complicated. Any of the parameters that might take place as barriers to the substantial intentions of human existence are bad timing, social stereotypes, and even complex conditions of fact.
The right to partnership is gained but not granted; losses are unavoidable, and it is rare to define the responses to relieve the pain.