Shows based on video games on Netflix are becoming increasingly popular, whether in animation, live-action movies, or television series.
Video games have evolved over the years to become more than simply great visuals and enticing gameplay.
Single-player campaigns have become a realistic and viable alternative to the ever-popular multiplayer gaming modes due to storylines and general narratives.
Unsurprisingly, some of these storylines have made their way into other media. In most cases, it takes viewers down memory lane while also adding depth and new elements to a franchise that already exists.
Some of these shows based on video games on Netflix have proven to be more successful than others.
However, Netflix has picked up a lot of them, with an entire library available under "based on a video game" on the popular streaming site.
Although not all of these shows based on video games are deemed Netflix Originals, Netflix has acquired or secured the rights to numerous of them, making them worth seeing.
1. Dota: Dragon's Blood Brings (2021)
Dota: Dragon's Blood is a Netflix original series that premiered in March 2021. It is based on Valve's Dota 2, a popular MOBA video game.
It has a sizable fan base, so adapting it into an animated series was a risky move. Yuri Lowenthal, Troy Baker, and Lara Pulver are among the voice performers in Dota: Dragon's Blood.
The latter gives her voice to the Netflix animated movie The Witcher: Nightmare Of The Wolf. Dota: Dragon's Blood is a thrilling and dramatic Netflix series that puts the magic of the game, along with all of its legend and glory, to life. 
2. Arcane (2021)
This is one of the best tv shows based on video games on Netflix. Netflix's Arcane is set in the sister cities of Piltover and Zaun, one small region of the globe of Runeterra in the larger League of Legends esports universe.
It is perhaps the new bar for translating video games into tv shows. Fortiche, a French animation studio, worked with Riot Games' creative team for several years to develop a story that appealed to both committed League players and casual viewers.
The series was made using a unique combination of computer animation. Also, illustrated backgrounds look great and allow for nuanced performances that set it apart from most other CGI animated shows.
It also features a voice cast that includes Hailee Steinfeld, Ella Purnell, and Jason Spisak. Nine Annie Awards have been nominated for the debut series, which honors excellence in the art of animation.
3. Wakfu (2008)
Wakfu is an animated television series based on the MMORPG Wakfu, which was created by Ankama Games and released by Square Enix and Ubisoft.
This series rose in popularity after its initial debut as a French animated series, and Netflix purchased its rights before the third season, making it a Netflix Original.
Despite its popularity, Ankama has relied on Kickstarter campaigns to accomplish goals and keep the series alive, including financing dub versions.
However, the show's popularity has paid off, allowing the fourth and final season to air in the future.
4. The Witcher (2019)
Every gamer who knows the albino mutant monster-slayer Geralt of Rivia is probably ready to burst from anticipation this early on in The Witcher from Netflix.
The Witcher follows the novels' plot and has a backstory for Geralt, Ciri, and Yennefer. The show was premiered on Netflix in late 2019. So take a deep breath and get your potion ready.
5. Skylanders Academy (2016)
Skylanders games will encourage users to scan toys and figurines, importing them into the game and therefore allowing them to be used, similar to Lego Dimensions.
Spyro the Dragon was one of the many famous characters in the Skylanders franchise, which included multiple games.
Skylanders Academy, a Netflix original series created by Activision Blizzard Studios, was launched in 2016.
6. Dragon's Dogma (2020)
Capcom's Dragon Dogma, which was released in 2020, is frequently compared to Netflix's Castlevania since it is one of the most popular shows based on video games on Netflix.
Although it often falls short of the Dracula-based series' high standards. The series was based on the popular 2012 video game Dragon's Dogma.
7. Castlevania (2017)
Castlevania is one of Netflix's most well-known and popular shows based on video games. It's a must-see for everyone who has previously appreciated the Castlevania games, with four seasons of gripping storytelling that bring the setting and characters to life.
Castlevania is undoubtedly a precedent for future Netflix video game adaptations, with Dracula's grief-induced revenge on mankind and Trevor Belmont's battle against it.
8. Where In The World Is Carmen Sandiego (1991)
Where In The World Is Carmen Sandiego is one of the best tv shows based on video games on Netflix.
This is a video game series that debuted in 1985 as an educational game that encourages and requires players to uncover and answer clues on their way to locating the wicked Carmen Sandiego.
There would be many more revisions and variants of the game, with the player attempting to locate Carmen at all times.
9. Minecraft: Story Mode (2011)
Set in Minecraft, Minecraft: Story Mode is a family-oriented comedy-adventure series. A mysterious gigantic monster known as the Witherstorm is on a collision course to destroy the earth. It's up to the audience to decide whether Jesse is a man or a woman, and their decisions affect the story's outcome.
10. The Cuphead Show! (2022)
Anyone who faced 2017's brutally difficult Cuphead wished they could see more of the game's animation when its bosses weren't handing them their butts. It was heavily inspired by 1930s cartoons, such as Walt Disney's Silly Symphony films.
The upcoming Netflix series Cuphead and Mugman will emulate that engrossing approach while also bringing all-new adventures for the porcelain twins Cuphead and Mugman.
11. Hi Score Girl (2018)
HaruoYaguchi is the central character in this series. He is a video gamer who participates in the coin-op gaming industry. Yaguchi isn't good at anything, despite being the top player in arcade gaming.
Even though Yaguchi is well-known in the gaming world, his life outside of it is very boring. Yaguchi's life is suddenly brightened by Ono Akira, a new player at his school. She has excelled in both academics and games.
She has even beaten Yaguchi seven times in a row. This severely bruises the pro-ego, gamer and the next time they play, Yaguchi uses dirty techniques, but Akira catches him.
The two of them then have a love-hate relationship that develops into something extraordinary over time. The series is immensely famous among manga and anime enthusiasts, and gamers will like it as well.
12. Adventures of Sonic the Hedgehog (1992)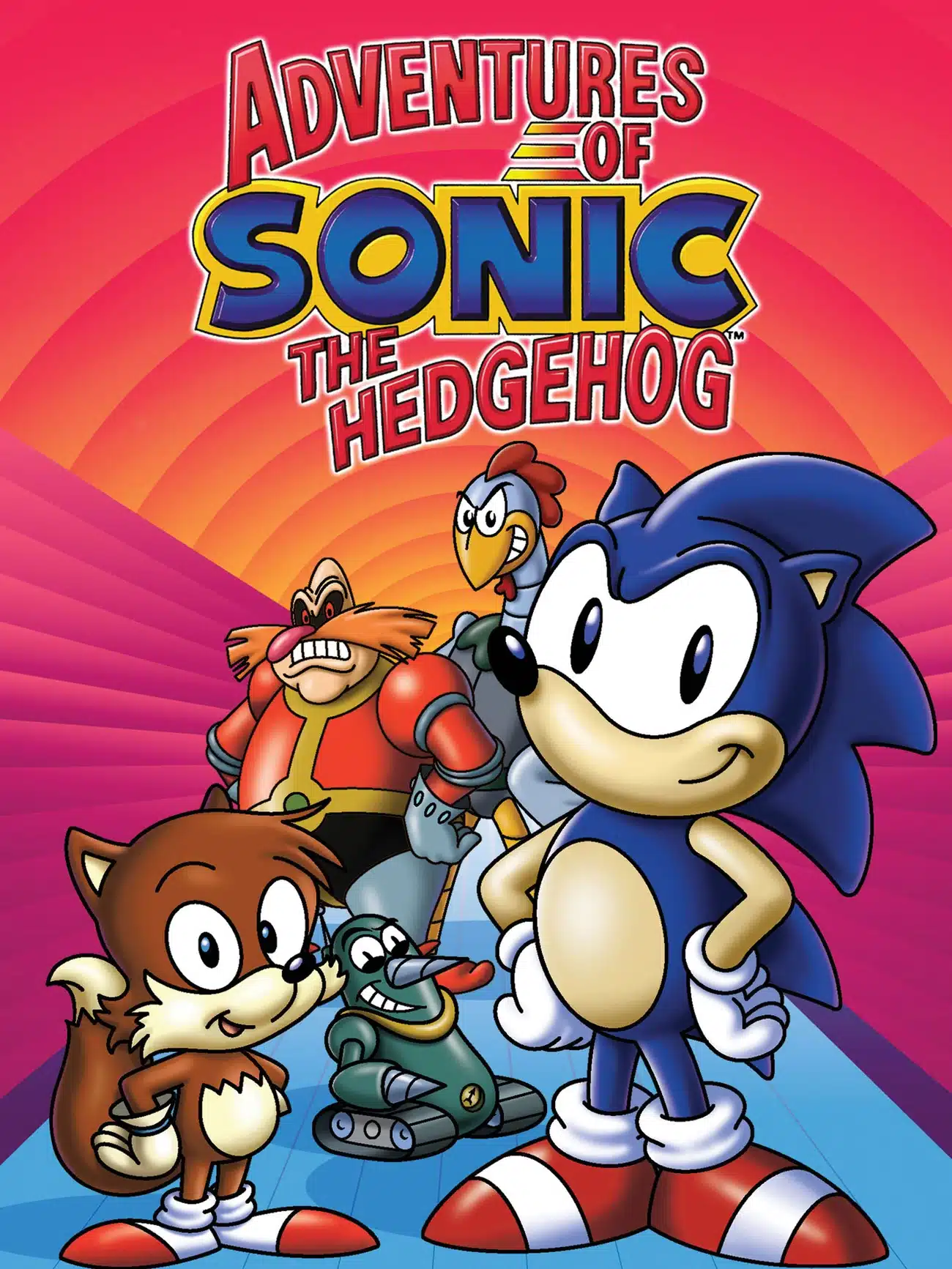 The Show: Sonic is a bright blue hedgehog with a lot of personalities and the ability to travel at supersonic speeds.
Although he can be haughty at times, he has good intentions, especially when he and his companion Tails are stopping the nefarious Dr. Robotnik and his robot minions from conquering the planet Mobius.
13. Pokémon Journeys: The Series (2019)
In Galar, Go and Scorbunny joins Ash and Pikachu in a bid to catch Mew and the other Pokémon.
Team Rocket's comedic trio, established in the Black & White series, has been replaced with sequences featuring video chats between the Team Rocket trio and Giovanni, or scenes in which the team plots to take Pikachu or any other Pokémon.
14. Pac-Man and the Ghostly Adventures (2013)
Evil ghosts are wreaking havoc in Pac-Man's native country. Pac-Man has extraordinary abilities and ascends to the position of president of Pac-World. He now defends his world with the help of Cylindra and Spiral, two of his closest pals.
15. Rabbids Invasion (2013)
Mischievous rabbit-like creatures from another planet have invaded Earth and are wreaking havoc. They cause mayhem wherever they go, all with the goal of having a good time all of the time.
16. Angry Birds: Summer Madness (2022)
When Red, Chuck, Bomb, and Stella are Angry Birds in their twenties and spend the summer at Camp Splinterwood with the rest of the gang, expect fireworks and mayhem.
This summer, the birds are going to break all the laws with their antics and implausible pranks as they fight off the annoying Pigs on the other side of the lake.
17. Black Mirror
With the release of 'Black Mirror: Bandersnatch,' Netflix opened up previously closed doors in the realm of entertainment. The protagonist Stefan, a video game creator, is the focus of this episode.
Viewers may choose which steps Stefan should do, and people are provided alternatives based on which Stefan will perform.
According to reports, the series includes 10 to twelve endings, some of which are creepier than others. The series also has several metafictional aspects. Piracy can be reduced to a considerable amount with the introduction of such a format.