There has never been a time in the history of boxing when it hasn't influenced the planet because of the mental and physical strength required to perfect the sport.
However, filmmakers have taken advantage of this passion for the sport to produce some of the best boxing movies on Netflix.
Boxing is a sport that never dies in the movie industry, although sports movies come and go. Boxing movies are always improving and will only become better with time.
Look back to when the Rocky Balboa movies first came out and see how far it has come. In the intervening years, movies like Creed and Southpaw have emerged.
Movies like this draw you in with their depiction of the protagonists' self-deprivation and progress in both mental and physical strength. Netflix has several great boxing movies accessible for those who admire the sport's commitment and discipline.
Below are the best boxing movies on Netflix.
1. Mary Kom (2014)
Director: Omung Kumar
Star cast: Priyanka Chopra Jonas, Sunil Thapa, and Robin Das
IMDB rating: 6.8
Although the production of boxing movies has always been somewhat of a staple in the sports genre, there haven't been all that many movies centered on female fighters.
There are few movies about Indian female boxers, and Mary Kom is one of the best boxing movies on Netflix.
The Bollywood movie Mary Kom tells the inspirational story of Mary Kom, who defies all obstacles, breaks through all stereotypes, and proves her doubters wrong by pursuing her passion.
She is a role model for women everywhere. As the only woman boxer to have won the Globe Amateur Boxing Championship six times, she not only rose to prominence in Indian boxing but also became a household name throughout the world.
2. Ali (2001)
Director: Michael Mann
Star cast: Will Smith, Jamie Foxx, Jon Voight, and Mario Van Peebles
IMDB rating: 6.7
Most people have heard of Muhammed Ali because of his amazing career as a boxer. Although Ali was able to rise to the top, he had to overcome several challenges and hard roads to do so.
From 1964 until 1974, Ali's great boxing career is documented in the movie, including some of his most notable championship fights.
However, the movie doesn't shy away from the facts and is frank about Ali's controversies to earn the popularity he has today.
3. Fighting with My Family (2019)
Director: Stephen Merchant
Star cast: Dwayne Johnson, Lena Headey, and Vince Vaughn
IMDB rating: 7.1
This movie features all-star casts such as Florence Pugh, Lena Headey, Nick Frost, Jack Lowden, and Vince Vaughn.
This movie is a biographical sports drama about the life of English professional wrestler Paige and her brother Zak's attempt to follow in her footsteps and become a WWE superstar.
There are few boxing movies on this list that don't have at least one wacky appearance from Big Show or Dwayne "The Rock" Johnson. Fighting with My Family is one of the funniest and best boxing movies on Netflix.
4. Warrior (2011)
Director: Gavin O'Connor
Star cast: Tom Hardy, Nick Nolte, and Joel Edgerton
IMDB rating: 8.2
Former marine Tommy Riordan goes to Pittsburgh to visit his estranged father, Joe Riordan. Warrior revolves around his journey back to his hometown.
It was then that Tommy tried using his hands to fight. However, he quickly realized that he could knock out a professional mixed martial arts (MMA) competitor within minutes.
To make up for what he's done, Tommy asks his father to prepare him for a competition after the video of their fight went viral.
The story shifts to Tommy's elder brother, Brendan, a failing MMA fighter who is having financial difficulties.
Even though Brendan's family is in danger, he chooses to attend the same competition in the hopes of saving them.
However, when both brothers know they will be confronting one other, things come to a head, and viewers are left wondering whether the resulting battle would help restore their relationship.
5. Southpaw (2015)
Director: Antoine Fuqua
Star cast: Jake Gyllenhaal, Rachel McAdams, and Oona Laurence
IMDB rating: 7.3
In Southpaw, Jake Gyllenhaal plays Billy Hope, a professional boxer who suffers from depression after losing his wife and daughter in an accident.
After meeting with Forest Whitaker's Titus Wills, a former boxer drives him on to make some life-altering decisions.
Southpaw is an intense and touching drama. It shines because of its ensemble's convincing performances, including Oona Laurence, Curtis "50 Cent" Jackson, Rachel McAdams, Naomie Harris, and Miguel Gomez. This is one of the best boxing movies on Netflix.
6. Million Dollar Baby (2004)
Director: Clint Eastwood
Star cast: Clint Eastwood, Hilary Swank, Morgan Freeman, and Anthony Mackie
IMDB rating: 8.1
Hilary Swank plays Maggie Fitzgerald, a strong lady who aspires to become a professional in one of the most popular boxing movies of the last two decades.
Frankie Dunn, a well-known trainer portrayed by Clint Eastwood, refuses to work with her since he isn't interested in working with a female competitor.
As her career progresses, she begins to fall in love with him, and he also begins to fall for her. Swank won an Oscar for her performance, and the picture was named the best movie of 2004. Million Dollar Baby is an excellent movie to see if you're looking for a nice inspiring story.
7. Bayonet (2018)
Director: Kyzza Terrazas
Star cast: Rodrigo Marquez-Tizano(voice), Luis Gerardo Méndez, and Brontis Jodorowsky
IMDB rating: 5.6
'Bayonet' tells the story of Miguel "Bayoneta" Galndez, a former boxer who is haunted by a traumatic event from his past. Miguel decides to go to Finland to get away from the trauma.
It doesn't seem to make any difference, and Miguel is still struggling with the demons of his past. As a result, destiny provides him a chance to redeem himself in the ring, and Miguel, eager to take advantage of the opportunity, devotes all of his energy to boxing.
8. Tiger, Blood in the Mouth (2016)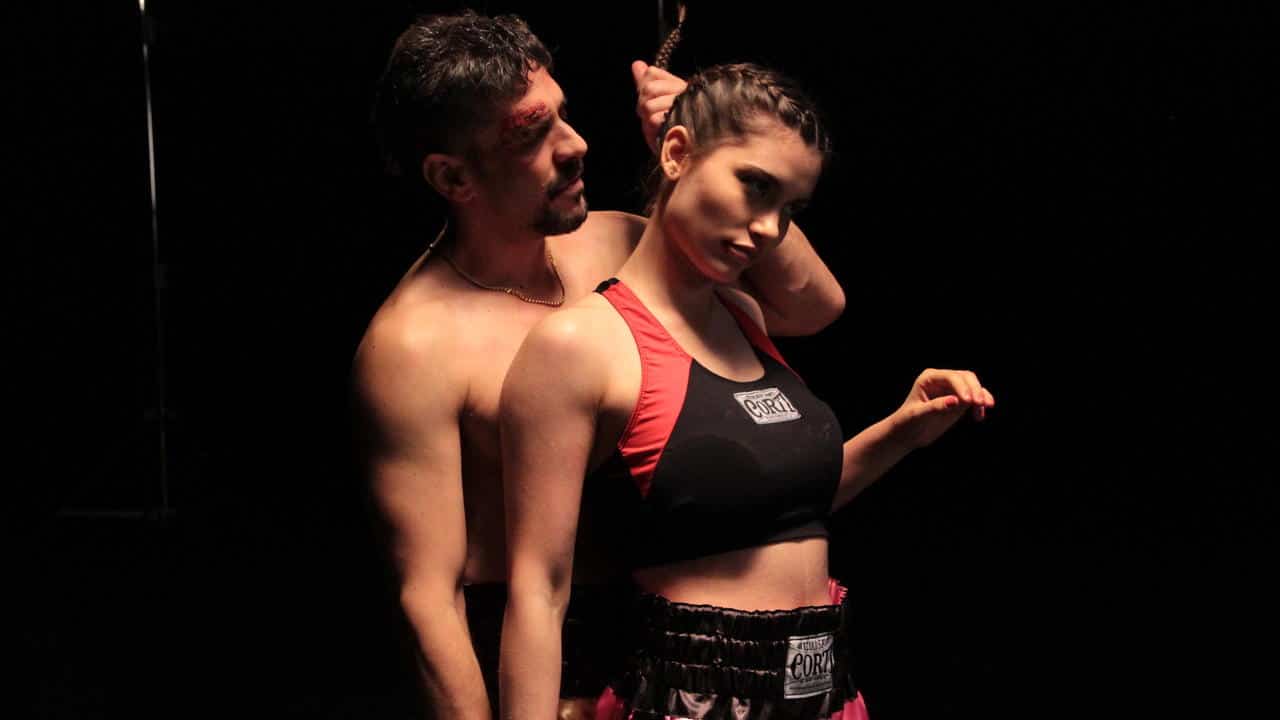 Director: Hernán Belón
Star cast: Leonardo Sbaraglia, Eva De Dominici, and Erica Banchi
IMDB rating: 5.5
"Tiger, Blood in the Mouth" focuses on experienced boxer Ramon, 50, who seems happy with his life situation. He has a great job and family and stays in shape by going to the gym daily.
When Debora, a young, ambitious boxer, enters the gym, his ideal existence is thrown out of focus. When the new fighter enters the ring, Ramon becomes smitten with her and fantasizes about her sexuality.
A heated romance between Ramon and Debora follows Debora's succumbing to his sexual advances.
9. Creed II (2018)
Director: Steven Caple Jr.
Star cast: Michael B. Jordan, Sylvester Stallone, Tessa Thompson, and Phylicia Rashad
IMDB rating: 7.6
Rocky Balboa and Adonis Creed return in Creed II, the eighth Rocky movie and sequel to 2015's Creed. Adonis prepares to take on Viktor Drago, the son of Ivan Drago, who killed Apollo Creed 33 years before. Ivan was played by Dolph Lundgren again, while Florian Munteanu was added as Viktor.
Creed II was a financial and critical success, making over $200 million on a budget of $50 million, much like the original movie.
On November 23, Michael B. Jordan will make his directorial debut with Creed III, the third sequel. Despite Sylvester Stallone's continued involvement as a producer, this will be the first Rocky movie without him as the lead. This is one of the best boxing movies on Netflix.
10. Untold: Deal with the Devil (2021)
Director: Laura Brownson
Star cast: Christy Martin, Mike Tyson, and Don King
IMDB rating: 7.4
'Untold: Deal with the Devil,' a Christy Martin biographical movie, focuses on the life of the American boxer.
The former professional boxer fought in the ring from 1989 until 2012, during which time she won several accolades and competitions. She also won the WBC female super welterweight title in 2009.
Despite her growing fame and success in the ring, her personal life was marred by controversy and problems. Throughout the movie, you can see how she overcame adversity and even attempted murder to become a champion.
11. The Fighter (2010)
Director: David O. Russell
Star cast: Mark Wahlberg, Christian Bale, Amy Adams, Melissa Leo
IMDB rating: 7.8
Mark Wahlberg plays Micky Ward, a professional welterweight boxer who is used as a tomato can by other fighters as they battle their way to the top.
Despite Micky's skill, his mother's incompetence, and his half-brother's poor training, Dicky Eklund, an ex-boxer addicted to crack cocaine, prevents him from achieving his goals.
When Micky returns to the ring, the welterweight title is his main goal after momentarily stepping away from the sport.
The Fighter, one of the best boxing movies on Netflix, has two heartbreaking lead performances and paints a horrific image of addiction, family relations, and the desire to endure.