It's Black History Month, which means there's no better time than now to see some of the black history month movies of black people's unique stories. 
Movies like "Hidden Figures," "Loving," and "Fences" are bringing little-known stories about black lives to the big screen. 
However, if you're looking for something compelling and enlightening about the black experience right now, here are 29 feature films and documentaries to watch. 
Additionally, these films, which range from a childhood image of Barack Obama to the birth of the Black Power movement in the 1960s, are sure to broaden your black film vocabulary: 
In the United States and Canada, February is Black History Month. Black History Month is an annual commemoration in the United States, Canada, and the United Kingdom (which observes it in October) to honor and celebrate the history and achievements of the African diaspora worldwide. 
In addition, it also provides an opportunity to conduct crucial discussions about current racial imbalances.
In honor of Black History Month, here are some movies that emphasize distinct narratives of black history and identity that you can watch in cinemas or stream online at home. 
NASA discovered untapped ability in a group of African-American female mathematicians who acted as the brains behind one of the most extensive operations in U.S. history. The U.S. raced against Russia to put a man in space. 
We follow three of these women, known as "human computers," as they quickly advanced through the ranks of NASA alongside some of history's greatest brains.
They are tasked with calculating the historic launch of astronaut John Glenn into space and ensuring his safe return. 
Dorothy Vaughan, Mary Jackson, and Katherine Goble Johnson overcame gender, racial, and professional barriers. 
While their intellect and drive to dream big, beyond anything the human race had ever accomplished, solidified them. 
The top cast includes Taraji P. Henson, Octavia Spencer, Janelle Monáe, Kevin Costner, Kirsten Dunst, Jim Parsons. 
2. Selma (2014)
Selma is one of the must-watch black history month movies. The riveting true narrative follows Dr. Martin Luther King, Jr. during a tumultuous three-month period in 1965 when he led a dangerous campaign to obtain equal voting rights in the face of violent opposition. 
Additionally, the historic march from Selma to Montgomery resulted in President Lyndon B. Johnson signing the Voting Rights Act of 1965, one of the civil rights movement's most significant triumphs. 
"Selma," directed by Ava DuVernay, depicts the tale of how Dr. Martin Luther King, Jr., a beloved leader and visionary, and his brothers and sisters in the civil rights movement sparked transformation that permanently changed history.  
Some of the top cast includes David Oyelowo, Carmen Ejogo, Tom Wilkinson, Giovanni Ribisi.  
3. Loving (2016)
Mildred Jeter, a local black woman and family acquaintance, falls in love with Richard Loving, a white construction worker in Caroline County, Virginia. 
They decide to marry once Mildred discovers she is pregnant, but because interracial marriage violates Virginia's anti-miscegenation laws, they drove to Washington, D.C., to marry in 1958. 
Additionally, Richard decides to construct Mildred a house less than a mile from her family's home. Some of the top cast of loving are Ged Doherty, Colin Firth, Nancy Buirski, Sarah Green.  
4. Fences (2016)
Fences are also one of the best black history month movies to watch. In 1950s Pittsburgh, Troy Maxson works as a sanitation worker. 
Maxson originally aspired to be a professional baseball player, but he was ruled too old when the major leagues admitted black athletes. 
In addition, Troy, enraged by his missed opportunity, adds to the strain in his family by sabotaging his son's chances to see a college football recruiter. The top cast includes Denzel Washington, Viola Davis, Stephen McKinley Henderson, Jovan Adepo.  
5. 12 Years of Salevry (2013)
Based on the true story of one man's struggle for survival and liberty. Solomon Northup, a free black man from upstate New York, was kidnapped and sold into slavery in the United States before the Civil War. 
Furthermore, Solomon fights not only to stay alive but also to maintain his dignity, as he is confronted with violence embodied by a wicked enslaver, as well as unexpected kindnesses. 
Solomon's unexpected meeting with a Canadian abolitionist in the twelfth year of his epic journey will forever change his life. 
Some of the top cast include Chiwetel Ejiofor, Michael Fassbender, Benedict Cumberbatch, Paul Dano, Garret Dillahunt, Paul Giamatti.  
6. Race (2016)
The race is also one of the must-watch black history month movies: Jesse Owens, the renowned track and field athlete who overcame racial discrimination.  
He is also struggling on his route to winning four gold medals at the 1936 Olympics in Nazi Germany, a record that stood for 48 years. 
However, Owens couldn't even sit in the front of a bus when he returned to the United States, despite his victory. Some of the top cast inc; lude Stephan James, Jason Sudeikis, Jeremy Irons, Carice van Houten, William Hurt.  
7. 42 (2013)
Jackie Robinson is a Negro League baseball player in 1946 who refuses to accept racism. Branch Rickey owns a Major League baseball team that has a bold idea. 
However, to that aim, Rickey recruits Robinson to become the first modern African American Major League player, breaking the unspoken color line. 
As both expect, this presents significant difficulty for Robinson and his family, as they face continuous racist animosity from both players and fans on and off the pitch. 
Additionally, as Jackie fights against his instinct to put up with such treatment without complaining, he finds allies and hope in unexpected places. Some of the top cast includes Chadwick Boseman, Harrison Ford, Nicole Beharie, Christopher Meloni, André Holland.  
8. I Am Not Your Negro (2016)
I Am not your Negro is also one of the must-watch black history month movies. James Baldwin described his next project, "Remember This House," in a letter to his literary agent in 1979. 
Furthermore, the book was supposed to be a revolutionary, intimate narrative of three of his close friends' lives and assassinations: Medgar Evers, Malcolm X, and Martin Luther King, Jr. Baldwin only left 30 finished pages of this manuscript behind when he died in 1987. 
Raoul Peck, a filmmaker, imagines James Baldwin's book never finished.  
9. Girlchild (2014)
Marieme, oppressed by her family, dead-end school prospects, and the neighborhood's boys law, begins a new life after meeting a group of three free-spirited females. 
Additionally, to be welcomed into the gang, she changes her dress code and quits school, expecting to lead to freedom. Some of the top cast include Karidja Touré, Assa Sylla, Lindsay Karamoh, Mariétou Touré.  
10. Lee Daniels' The Butler (2013)
Next on our best black history movies list is Lee Daniels the Butler. Cecil Gaines was a sharecropper's kid who grew up as a domestic worker for the white family who casually destroyed his farm in the 1920s. 
Cecil eventually strikes out on his own in the 1950s, becoming a hotel valet of such competence and discretion that he is hired as a butler in the White House. 
Additionally, Cecil would serve multiple U.S. Presidents there throughout the decades as a passive observer of history as the American Civil Rights Movement gained traction, despite his family's problems. 
In addition, Cecil must determine if he should take action in his way while his wife, Gloria, battles with her addictions and their stubborn eldest son, Louis, works for a just world. 
Some of the top cast includes Forest Whitaker, Oprah Winfrey, Mariah Carey, John Cusack, Jane Fonda, Cuba Gooding Jr. 
11. The African Americans: Many Rivers to Cross (2013)
This PBS documentary, hosted by Harvard University academic Henry Louis Gates Jr., is long but worth seeing. 
Additionally, the six-part series traces the African American experience from the colonial period to the Civil Rights Movement and beyond, including various cultural and socioeconomic viewpoints in the process. 
Some of the top cast include Henry Louis Gates Jr, Kathleen Cleaver, Vincent Brown.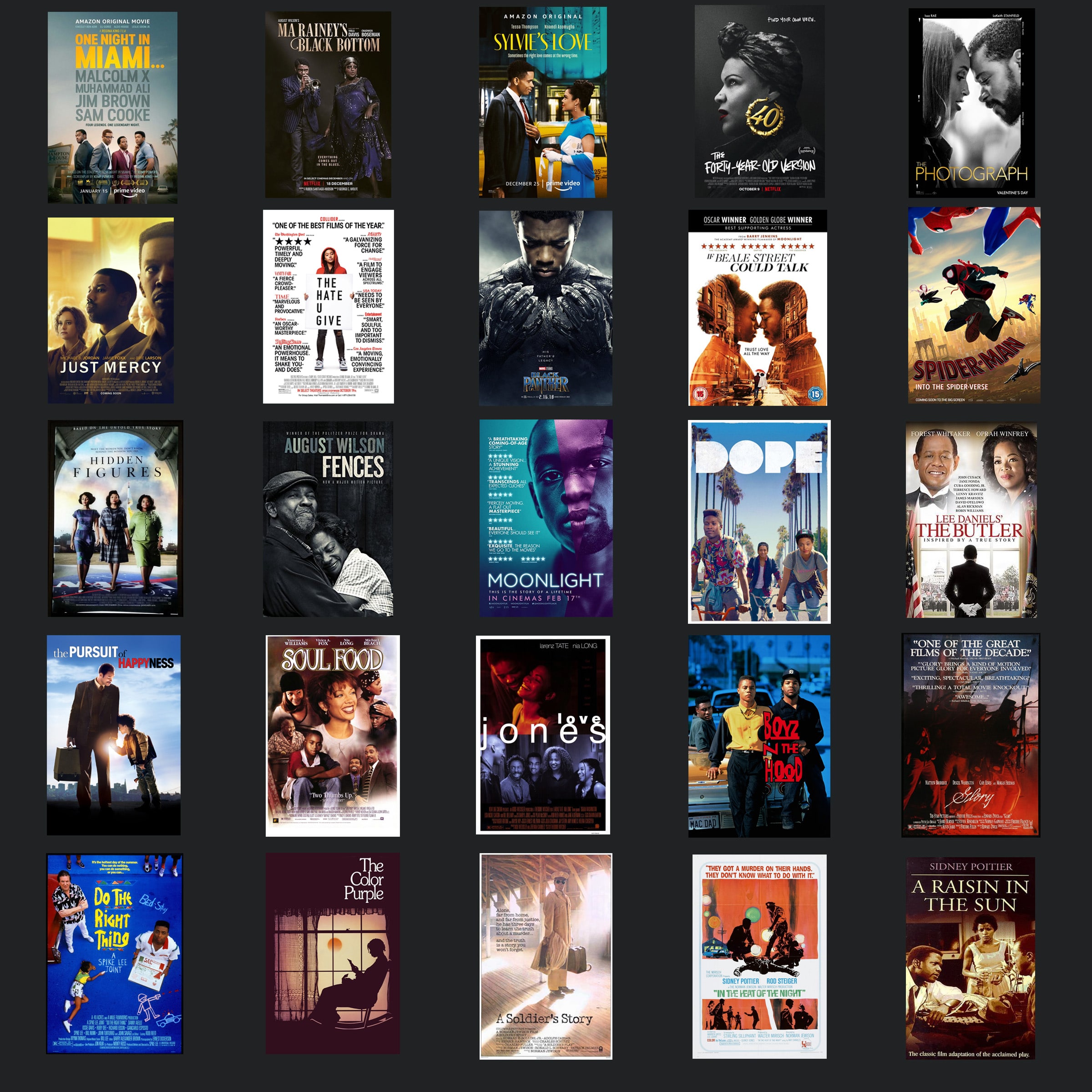 12. Malcolm X (1992)
Malcolm X is also one of the best black history month movies to watch. Mr. Malcolm X, the iconic African American leader, is the subject of this biographical epic. 
Additionally, his father (a Garveyite Baptist minister) was murdered by the Ku Klux Klan when he was born Malcolm Little. Malcolm became a thug and read Elijah Muhammad's Nation of Islam books while incarcerated. 
Furthermore, when he is released from prison, he preaches the teachings but travels to Mecca. 
He converts to the original Islamic religion in Mecca, becoming a Sunni Muslim and changing his name to El-Hajj Malik Al-Shabazz. On February 21, 1965, he was assassinated and became a Muslim martyr. 
Some of the top cast includes Denzel Washington, Angela Bassett, Albert Hall, Al Freeman Jr., Delroy Lindo.  
13. Mama Africa (2002)
Three African stories: a young woman searching for her child's irresponsible father. He is a famous basketball player facing a horrible moral choice and a woman just released from jail who must find a means to support herself and her daughter while coping with her family's criticism. 
Some of the top cast in mama Africa are Miriam Makeba, Bageot Bah, Harry Belafonte, Stokely Carmichael, Stokely Carmichael.  
14. Dear White People (2017-2021)
Dear white people is one of the best black history month movies to watch. Special White People is a film about a group of black college students dealing with race, sexual orientation, and what it's like to be an outcast in a predominantly white university. 
Furthermore, the film, which won the Jury Prize at the 2014 Sundance Film Festival, sheds light on the racial tensions present on today's college campuses.
Furthermore, the principal cast includes Logan Browning, Brandon P. Bell, DeRon Horton, Antoinette Robertson, John Patrick Amedori, Ashley Blaine.  
15. The Black Power Mixtape (2011)
A modern Swedish filmmaker edits together footage filmed by Swedish journalists documenting the Black Power Movement in the United States. 
Some of the top cast include Stokely Carmichael, Martin Luther King Jr., Eldridge Cleaver, Bobby Seale, Huey P. Newton.  
16. The Black List (1995)
The Black List is also one of the best black history movies. It is a series of interviews with key figures in contemporary Black America from various fields such as music, movies, politics, and business. 
Additionally, Tyler Perry, Colin Powell, Toni Morrison, and Angela Davis, among others, explore the progress accomplished by African Americans as well as the contemporary challenges they confront. 
17. Barry (2016)
"Barry" is one of two drama films (among many) that look at the life of a young Barack Obama, the man who would go on to become the first black president of the United States. 
Meanwhile, the film is about young Barry coming to terms with his race and identity at Columbia before meeting Michelle Obama. Some of the top cast include Devon Terrell, Anya Taylor-Joy, Jason Mitchell, Ashley Judd.  
18. The Beast of the Southern Wild (2012)
Through the eyes of a six-year-old in rural southern America, this Oscar-nominated and Michelle Obama-endorsed film presents an uplifting yet nuanced story of poverty and resilience. 
Furthermore, it stars Quvenzhané Wallis, the youngest Best Actress nominee in Oscar history. Additionally, "the film highlights the resilience of communities and the power they provide people to overcome barriers," Michelle Obama stated. Some of the top cast include Quvenzhané Wallis Dwight Henry.  
Mandela Long walk to freedom is also a must-watch black history month movie. This film stars Idris Elba as Nelson Mandela, the anti-apartheid leader and former South African President. Mandela: 
Additionally, long Walk to Freedom examines how racism and colonialism have impacted black people worldwide. 
The top cast includes Idris Elba, Naomie Harris, Tony Kgoroge, Riaad Moosa, Lindiwe Matshikiza.  
20. What Happened to Miss Simone (2015)
Nina Simone was noted for her unfettered musical expression on stage, which thrilled audiences and won life-long fans. 
Simone battled to reconcile her artistic identity and aspirations with her loyalty to a movement amid the violent, haunting, and senseless day-to-day of the civil rights era in 1960s America. 
Furthermore, this new video, culled from hours of autobiographical records, reveals the unbridled ego of a brilliant artist as well as the oddities of her period. 
Simone moved to Liberia and stopped singing at the height of her stardom, abandoning her family, country, job, and fans. 
How does royalty stomp around in the dirt and still walk with grace?' asks the account of her life leading up to that incident. 
21. Pariah (2011)
Next On our list of black history month movies is a pariah. In a frantic pursuit for sexual expression, a Brooklyn youngster juggles contradictory identities and risks friendship, heartbreak, and family.
The principal cast includes Adepero Oduye, Kim Wayans, Aasha Davis.  
22. What Loves Got to Do With It (1993)
Anna Mae Bullock's voice was always unique. She quickly captures the attention of pop group leader Ike Turner after arriving in St. Louis to live with her mother, who had abandoned her when she was a child. 
Furthermore, she becomes the singer for his band, his wife, and the mother of his children, though not all of them are hers.
She finds herself the target of increasing violence from him, who can't see who makes his band such a success. 
In love with him and determined not to leave like her mother, she finds herself the target of increasing violence from him. Some of the top cast includes Angela Bassett Laurence Fishburne.  
23. Night Catches Us (2010)
Last On our list of black history month movies is the Night catches us.
Complex political and emotional forces are implemented when a young man returns to the race-torn Philadelphia neighborhood where he grew up during the Black Power struggle in 1976.
Some Of the top cast includes Kerry Washington, Anthony Mackiem, Jamie Hector, Wendell Pierce, Amari Cheatom.