The best movies about Yakuza are listed below if you're a fan of Yakuza movies.
"Yakuza" refers to organized crime syndicates and their members in Japan. They are officially referred to as bryokudan, which is a violent gang. 
These are what we would refer to as the mafia in English. Uncertainty surrounds the Yakuza's history; however, it may have started with gangs of rnin who became robbers, bakuto, or traveling gamblers.
Popular, long-running series in the Yakuza genre include Zatoichi and Battles Without Honor & Humanity.
In addition to these series, several outstanding directors have explored the subject; some are even well-known for their Yakuza movies. 
While most of these directors have Yakuza movies that are less well known than their more well-known ones, these are just as deserving of respect.
The best movies about Yakuza below are likely ones you haven't seen.
1. Ichi the Killer (2001)
Director: Takashi Miike
Cast: Tadanobu Asano, Nao Ômori, Shin'ya Tsukamoto, Paulyn Sun, Susumu Terajima, Shun Sugata, and Tôru Tezuka
IMDb rating: 7.0/10
Ichi the Killer is one of the best movies about Yakuza. This movie, which begins with a title sequence that emerges from a pool of sperm, is Takashi Miike's most violent and controversial movie. 
The movie is a masochistic, byzantine romp full of inhuman violence and gallows humor that is disconcerting both for its terrible visuals and the uncomfortable laughter it inspires.
Surrealism, psychological manipulation, and excessive gore fill the storyline. 
Anjo, the underboss, is killed in his room by Ichi, a suppressed psychopath (Nao Omori). After that, Jijii (Shinya Tsukamoto) and his skilled cleaning crew carefully cover up the crime. 
Anjo's brutal enforcer Kakihara (Tadanobu Asano) and his other Yakuza can only assume that Anjo fled town with the $3 million missing from the gang's finances. 
Due to his tragic encounter with Jijii and his growing concerns that a rival gang may have abducted Anjo, Kakihara has been torturing and killing more Yakuza.
It is a measure of Kakihara's skill that even seasoned Yakuza turn away from him. 
Nevertheless, Ichi, a mystery for most of the novel, is far more-cruel.
Based on the manga series by Hideo Yamamoto (Homunculus, Yume Onna), the movie is filled with extreme violence that explores the boundaries between nurtured killers and born killers.
2. Tokyo Mafia: Yakuza Wars (1995)
Director: Seiichi Shirai
Cast: Riki Takeuchi, Masayuki Imai, Reiko Yasuhara, Hiroshi Miyauchi, Kôjirô Hongô, Hidemi Maruyama, and Kazuyoshi Ozawa
IMDb rating: 5.7/10 
Yakuza movie legend Riki Takeuchi must be mentioned when talking about yakuza movies.
During the 1990s, the slick-haired and gruff-voiced actor was a key player in B-level yakuza movies.
The first movie in the Tokyo Mafia series, Tokyo Mafia: Yakuza Wars, is among his most renowned works.
Ginya Yabuki, portrayed by Takeuchi, is a mid-level gangster with considerable influence within the Yamaryu criminal organization. 
All is well until he receives a beating from the organization's second-in-command, which causes him to be expelled from the clan; as an act of atonement, he even loses a pinky.
The movie then transitions into a sequence of incredibly graphic images, including the dismemberment of many victims, the popping out of eyes, and face injuries caused by ashtrays.
With cheesy jazz background music and over-the-top language, it is a classic example of a B-class yakuza movie. 
Tokyo Mafia: Yakuza Wars is a standout example of the straight-to-video yakuza movies created during this era, while neither being an arthouse movie nor a historical piece with a lot of content.
This is undoubtedly one of the best movies about Yakuza.
3. First Love (2019)
Director: Takashi Miike
Cast: Becky, Bengal, Masayuki Deai, Mami Fujioka, Sakurako Konishi, Masataka Kubota, and Masanori Mimoto
IMDb rating: 6.7/10
After learning that he had a brain tumor, a quiet, lonely boxer, Leo explores the streets of Tokyo in shock.
Indentured to the mafia as a call girl, Monica takes drugs to block off horrific memories of her violent father. 
The two come into contact in one of cinema's strangest on-screen romances when Leo instinctively punches out a cop trying to frame Monica for stealing a sizable shipment of drugs. 
This puts the two in a conflict between the Chinese and Japanese triads, who are both after the couple's blood. 
Although having produced more than 100 feature movies in 30 years since his debut, Takashi Miike is arguably most recognized abroad for his use of gruesome visuals and gratuitous gore. 
One of his best movies about Yakuza, like Audition and Ichi the Killer, reach such a crescendo of gonzo brutality that they make Eli Roth appear like Ken Burns. 
Therefore it's all the more amazing that Miike mixes First Love's exhilarating violence, hilarious humor, and unexpected tenderness so well. 
4. Sonatine (1993)
Director: Takeshi Kitano
Cast: Takeshi Kitano, Aya Kokumai, Tetsu Watanabe, Masanobu Katsumura, Susumu Terajima, Ren Ôsugi, and Kitamura
IMDb rating: 7.5/10
It is often regarded as one of Kitano's best movies about Yakuza, yet it was a financial disaster during its first release in Japan.
Not altogether unexpected considering the peculiar, reflective tone mixed with moments of intense unease. 
In one scene, the dissatisfied gangsters shoot fireworks at one other until Murakawa pulls a revolver on them, foreshadowing the Yakuza's tragic outlook.
The game goes on with no one seeming to mind.
Sonatine is a peculiar collage of surrealist elements. This includes a scenario in which Murakawa peacefully observes a guy trying to rape a lady before the man approaches him, at which point Murakawa calmly shoots him. 
Another scene has an assassin dressed as a fisherman who comes during a game of Frisbee.
The Murakawa character acknowledges that he is bored with living and seems stuck in a never-ending state of indifference.
Two clans meet at a hotel for one last act of mayhem, but Murakawa's power outage steals the show.
Even this victory, which occurs off-screen, is seen by Murakawa as an ordinary obligation.
There are just moments of brightness between no win and no defeat.
5. The Yakuza (1974)
Director: Sydney Pollack
Cast: Robert Mitchum, Ken Takakura, Brian Keith, Herb Edelman, Richard Jordan, Keiko Kishi, and Eiji Okada
IMDb rating: 7.2/10
The Yakuza, directed by Academy Award winner Sydney Pollack, may not have been a big hit at the box office, but it is one of the few Western movies that respect Japanese culture.
This movie portrays the alternate views between the East and the West as a social commentary.
A detective called Kilmer falls for a Japanese lady named Eiko but quickly learns that her brother is a resurrected, angry imperial soldier.
To save a kidnapped infant, Kilmer begrudgingly begs former yakuza member Ken for assistance. 
The Yakuza never makes fun of its subject matter, which prevents the unusual romance between two people from very different backgrounds from turning into a terrible succession of cliches.
6. Graveyard of Honor (2002)
Director: Takashi Miike
Cast: Ryô Amamiya, Narimi Arimori, Yoshiyuki Daichi, Hirotarô Honda, Harumi Inoue, Renji Ishibashi, and Yûdai Ishiyama
IMDb rating: 6.9/10
Kinji Fukasaku, the father of the yakuza genre, also directed the 1975 movie Graveyard Of Honor.
However, Takeshi Miike's version is thrilling and unsettling, with much more blood-splatter and heartless brutality.
The plot centers on dishwasher Ishimatsu, who unintentionally stops an assassin from killing a yakuza leader.
He thus climbs up the Yakuza ranks swiftly, infuriating other lieutenants and more senior G's inside the organization. 
Ishimatsu begins acting recklessly, murdering people, raping women, and abusing massive amounts of heroin, which worsens the situation.
In Miike's movie Graveyard Of Honor, underachievement-driven affluence may collapse as quickly as it rises. 
While the brutality in the movie is blatant, the underlying grief softens the turmoil and gives Graveyard Of Honor an unmistakable feeling of depth. This is one of the best movies about Yakuza.
7. Brother (2000)
Director: Takeshi Kitano
Cast: Takeshi Kitano, Claude Maki, Omar Epps, Masaya Katô, Susumu Terajima, Royale Watkins, and Lombardo Boyar
IMDb rating: 7.1/10
Takeshi Kitano produced several best movies about Yakuza, including coming-of-age stories, road movies, and even a whole movie about a group of grandpa yakuza out and about.
Brother, the only movie Kitano filmed in America, is arguably one of his underrated works. 
In the movie, he portrays Yamamoto, a yakuza who is forced to escape to Los Angeles when his clan is broken up.
As he meets up with Ken, his younger half-brother, he discovers that he, too is involved in gang activities. 
To dominate Los Angeles or perish trying, Yamamoto organizes a new yakuza clan with his half-brother and his Black friends rather than giving up and retiring.
Brother, one of the best movies about Yakuza entering America, draws an interesting comparison to Tokyo Vice, a tv show about an American entering the Yakuza. 
Similarly, Yamamoto's foreignness is highlighted by the fact that he is completely lost in translation at the beginning of the movie.
Yet as the story progresses, he strengthens his bonds with his L.A. gang, particularly Denny, played by Omar Epps.
8. Under the Open Sky (2020)
Director: Miwa Nishikawa
Cast: Kôji Yakusho, Seiji Rokkaku, Yukiya Kitamura, Hakuryû, Midoriko Kimura, Narumi Yasuda, and Meiko Kaji
IMDb rating: 7.1/10
Former yakuza Mikami is keen to walk the straight and narrow after serving a long jail term, but he finds it hard to blend into a community that may not want him.
While he is sincere and diligent, his impulsive behavior and refusal to give up his convictions scare and repel many around him. 
Ultimately, the decision is between Mikami continuing a futile fight and choosing the simple route back to a life of crime. 
The movie's director and a student of Shoplifters director Hirokazu Kore-eda is interested in exploring how anti-yakuza laws hinder former members' recovery and prevent their return to society. 
It's a subtle, emotional drama about adjusting to and surviving in a world where everything is stacked against you.
Under the open sky is one of the best movies about Yakuza.
9. Outrage (2010)
Director: Takeshi Kitano
Cast: Takeshi Kitano, Kippei Shîna, Ryô Kase, Fumiyo Kohinata, Sôichirô Kitamura, Tadashi Sakata, and Kenji Morinaga
IMDb rating: 6.8/10
This one is one of Kitano's most gruesome works from his latter career.
No character escapes completely untouched from the rampant double-crosses and marathon body count throughout the story.
In between all of this, yakuza political interludes are properly portrayed: relationships are created and destroyed, retaliation, revenge, and reciprocation happen, and so on. 
According to reports, Kitano started by describing the demises of numerous characters and then building a story around them.
In this movie, Kitano virtually approaches comedy in his skepticism of the Yakuza's idea of honor. 
Character development is unnecessary since his technical approach is chilly and constrained, and the violence is just expected rather than cathartic.
In many aspects, outrage is Sonatine's brazen cousin, where death is not something to be feared or exchanged for anything but is instead given out for a show.
10. Gozu (2003)
Director: Takashi Miike
Cast: Yûta Sone, Kimika Yoshino, Shôhei Hino, Keiko Tomita, Harumi Sone, Susumu Kimura, and Kanpei Hazama
IMDb rating: 6.9/10
Before receiving particular attention at Cannes, Takashi Miike's surrealist tribute to Athenian melodrama was initially intended as a low-quality release.
Gozu is maybe his best demonstration of the absurdist violence that Miike has always excelled at. 
Miike, who hardly ever exhibits a quiet style, embodies Gozu with a wide range of shock and metaphor.
The episodic exploits of this maniac begin with an unsettling but amusing introduction in which Ozaki, a once-experienced yakuza, seems to go insane and bash a puppy to bits. 
Disturbed by the mobster's recent conduct, Ozaki's boss instructs the young gangster Minami to drag Ozaki into the Nagoya countryside and shoot him. 
Ozaki appears to die, then ends up missing, then there's a guy with a cow's head, all due to magical circumstances.
Well, right. If you don't overdo Minami's metaphorical sexual awakening along the way, this is one of Miike's best movies about Yakuza.
11. The Blood of Wolves (2018)
Director: Kazuya Shiraishi
Cast: Kôji Yakusho, Junko Abe, Yôsuke Eguchi, Gorô Ibuki, Hajime Inoue, Renji Ishibashi, and Joey Iwanaga
IMDb rating: 7.0/10
1988 saw Hiroshima. Shuichi Hioka, a young, university-educated junior investigator, is teamed with Shogo Ogami, a crude and unconventional senior detective. 
The two cops look into the death of a bookkeeper with connections to the Yakuza.
However, as they dig more into the case, Hioka becomes less certain that he can trust Ogami, who not only behaves and looks like a thug but is also reputed to be working for the mob himself. 
The Blood of Wolves is a modern parody of Toei's classic jitsuroku movies that is aware of its influences.
The highlight, perhaps, is when an orchiectomy is used as an interrogation technique. 
It's a cop versus yakuza story with all the violence, profanity, and immorality of Fukasaku's Battles series.
It portrays a gritty city where the cops are equally dishonest as the Yakuza and prepared to stoop to the same lows to accomplish their goals.
12. Minbo (1992)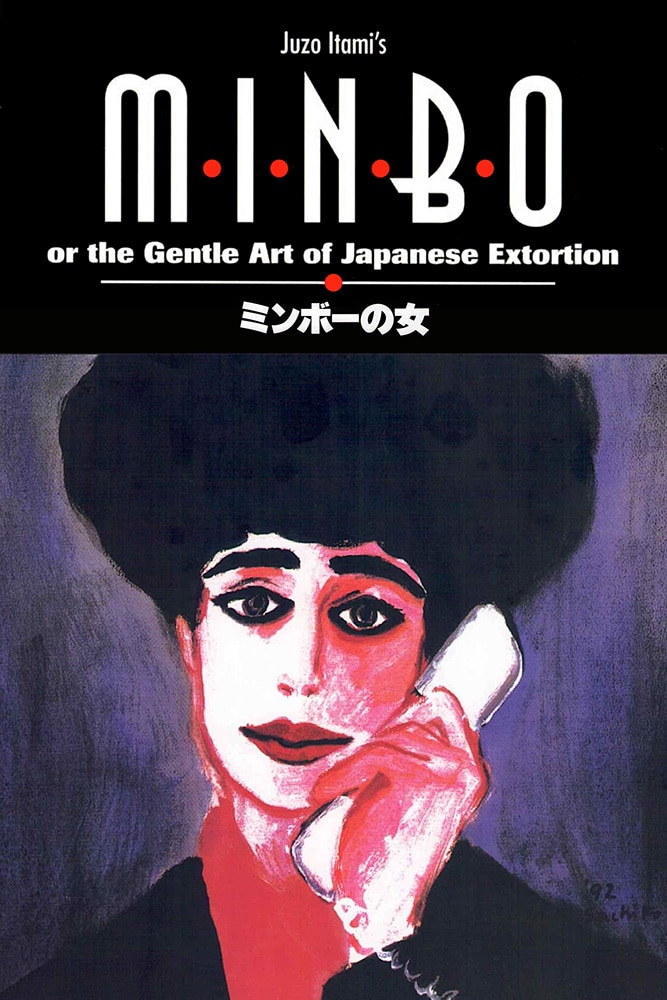 Director: Jûzô Itami
Cast: Nobuko Miyamoto, Yasuo Daichi, Takehiro Murata, Akira Takarada, Hôsei Komatsu, Noboru Mitani, and Hideji Ôtaki
IMDb rating: 7.4/10
Juzo Itami, a satirist best known for his screwball ramen western Tampopo, was a master at subtly using comedy to highlight the various flaws in Japanese society. 
Itami is cruel in Minbo, which follows a brave lawyer as she aids a posh hotel in fending off a swarm of Yakuza who are trying to extract money from it through fabricated civil disputes. 
The gangsters here lack any of the honor or cool sometimes associated with them in popular culture.
They are instead portrayed as little more than craven, thuggish bullies seeking to con honest people, which is a reflection of the anti-yakuza crackdown of their time. 
In this regard, Minbo makes a pretty sharp observation of the often conflict-averse attitude of contemporary Japan while offering the least sympathetic portrayal of Japanese organized crime.
It's important to note that this movie and Tokyo Vice have a fascinating, though sad, connection. 
As Minbo was made available in Japan, members of the Goto-gumi, a branch of one of the biggest yakuza groups in the country, planned an assault on Itami and brutally beat and slashed him.
This one is the yakuza group that the actual Jake Adelstein wrote about seeing in Tokyo Vice. 
Adelstein supposedly discovered the real reason for the filmmaker's strange death, which was a murder that was classified as a suicide. This is one of the best movies about Yakuza.
13. Dead Or Alive (1999)
Director: Takashi Miike
Cast: Shô Aikawa, Riki Takeuchi, Renji Ishibashi, Hitoshi Ozawa, Shingo Tsurumi, Kaoru Sugita, and Duncan
IMDb rating: 6.7/10
Takashi Miike's drug-infused cinematic masterpiece Dead Or Alive, perhaps one of the best movies about Yakuza on this list, will leave you stunned. 
The violence in this movie is continually out of control, ranging from the sniffing of 15-foot lines of cocaine to bazooka blasts, arm cutting, and laser crystal fire.
A Chinese yakuza member is engaged in a gunfight with a Japanese murderer (Sho Aikawa) in the untamed terrain of Shinjuku, Tokyo, in the movie Death Or Alive. 
The movie has comedic moments, but the bloody final combat scene is, without a doubt, one of the most thrillingly savage in the genre.