Only a fortunate few have had their names among James Bond actors in order. The iconic Agent 007 character has become a legendary symbol in the spy movies industry.
As a result, people look forward to new James Bond movies. The James Bond series began with Sean Connery playing the iconic character in the first film, Dr. No. After that, several actors stepped up to star as the legendary Agent 007.
It may become easy to forget that beneath the near-perfect super-spy agent are actors who went to great lengths in delivering spectacular performances.
These actors left no stone unturned in creating an excellent onscreen interpretation of the character.
Today, counting James Bond actors in order reveals an exciting number. Seven actors have played the legendary British super-spy Agent 007.
Nevertheless, each of these actors faced personal challenges in their careers. I hope you find encouragement as you go through this list of James Bond actors in order.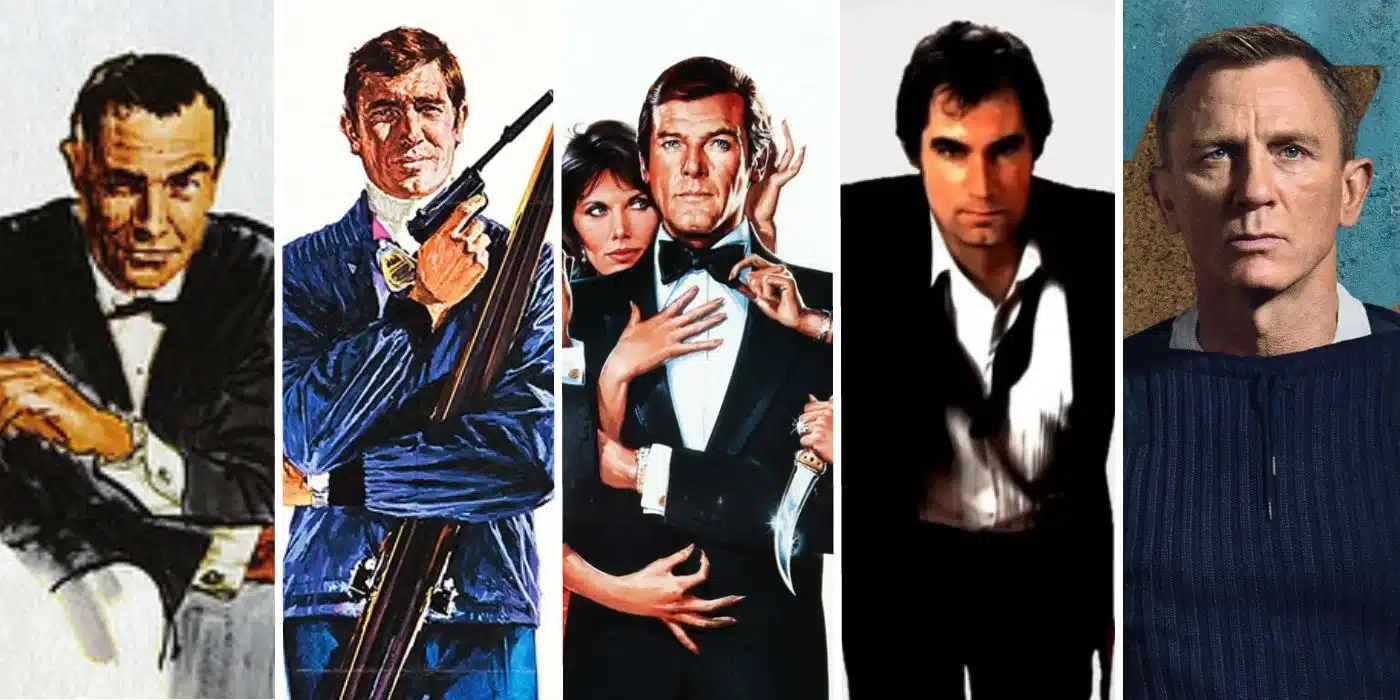 You can also check out the article on the best James Bond movies if you are ready for further exploration. Without further ado, let's delve into the topic of the day.
Sean Connery
The first on our list of James Bond actors in order is Sean Connery. This prolific actor played James Bond in the series release between 1962 and 1983.
Born on August 25, 1930, Sean Connery was the first actor to feature in the James Bond film. Connery, child of a truck driver and a cleaner, quit schooling at 14 to turn into a milkman.
Subsequently, he served in the Royal Navy and was part of the Mr. Universe working out contest where he represented Scotland. Before making his acting debut as a precious stone criminal, this contest was in the film "No Road Back" in 1957.
During the 1950s, Sean Connery featured in various U.K. movies and T.V. programs. In the mid-'60s, he handled the lead role of James Bond in Dr. No, continuing with the part in follow-ups like Goldfinger and Thunderball. Moreover, he acquired massive attention and fame.
He worked routinely in film from that point, winning the 1988 Academy Award in the class of supporting actors for The Untouchables.
Later, Connery featured in the adventure films like Indiana Jones and the Last Crusade and The League of Extraordinary Gentlemen before resigning from acting. Connery died at 90years on October 31, 2020.
James bond movies acted: Diamonds Are Forever (1971), You Only Live Twice (1967), Thunderball (1965), Goldfinger (1964), From Russia With Love (1963), Dr. No (1962)
Other movies acted: Highlander" (1986), "The Untouchables" (1987), "Indiana Jones and the Last Crusade" (1989), "Family Business" (1989), "Rising Sun" (1993).
David Niven
David Niven came into the James Bond franchise during its 1967 release, and he comes second when you view James Bond actors in order. James David Graham Niven came into the world on a feast day of St David on March 1, 1910.
Following Niven senior's demise at Turkey's notorious Suvla Bay, Niven's mom wedded his dad, the Conservative lawmaker Sir Thomas Comyn-Platt.
David Niven went to Stowe School and Sandhurst Military Academy and served in Malta with the Highland Light Infantry for a long time.
As world war II gathered momentum, the A-list actor re-enlisted in the military (Rifle Brigade). Nonetheless, he featured in two movies during the conflict, with both films having solid stats. They included Spitfire in 1942 and The Way Ahead in 1944.
The Popularity Poll of British film stars placed him second in 1945 despite his six years of virtual disappearance from the screen.
This James Bond actor gathered a reputation for his definite touch with light parody. Likewise, he became a significant and sensational entertainer, winning an Academy Award for his part in Separate Tables (1958).
Niven featured in movies until his demise, despite suffering from Amyotrophic Lateral Sclerosis (likewise called Lou Gehrig's infection). His last film was The Curse of the Pink Panther (1983). He died on July 29, 1983, in Château-d'Oex, Switzerland.
James Bond movies acted: Casino Royale (1967)
Other movies acted: The Pink Panther (1963), The Guns of Navarone (1961), Death on the Nile (1978).
George Lazenby
Sheila Joan (Bodel) gave birth to George Robert Lazenby on September 5, 1939, in Goulburn, New South Wales, Australia.
He moved to London, England, in 1964, subsequently serving in the Australian Army. Before becoming an entertainer, George Lazenby worked as a technician, a vehicle sales rep, and a male model in London, England.
In 1968, Lazenby won the role of "James Bond," despite his lack of features in popular films. His prominent film appearance was a piece part in a 1965 Italian-made Bond parody.
The role did not come easy, though, as Lazenby wrestled it in a screen-test battle scene. Bond series maker Albert R. Broccoli offered him the opportunity when the two met in a beauty parlor in 1966 in London.
Broccoli had considered casting Lazenby as the new James Bond when he thought Lazenby resembled a Bond.
Nevertheless, Lazenby shockingly quit the job of Bond just before the debut of his main film, On Her Majesty's Secret Service (1969). He complained of the fourteen pages thick contract being too intense for him.
James Bond movies acted: On Her Majesty's Secret Service.
Other movies acted: Emmanuelle's Love (1993), The Man from Hong Kong (1975), and Return of the Man from U.N.C.L.E. (1983).
Roger Moore
Roger Moore had quite the career featuring in four James Bond movies between 1973 and 1985. He graciously replaced Sean Connery in the James Bond series despite being the fourth in the list of James Bond actors in order.
Roger George Moore came into the world on October 14, 1927, in Stockwell, London as the child of Lillian (Pope) and George Alfred Moore. He went to the United States in 1953, and it didn't take long for him to sign an agreement with Metro-Goldwyn-Mayer.
Moore went into T.V. during the 1950s featuring on series like Ivanhoe (1958) and The Alaskans (1959). However, he presumably got the most acknowledgment from Maverick (1957), as cousin Beau. After that, he leaped into the global stage with the show "The Saint" (1962).
The series made him a genius and gave him lasting success from thereon. Subsequently, Moore finished his run as the Saint becoming one of the most famous stars in the world.
He tried gaining a foothold in the American film industry with Tony Curtis on I.T.C.'s The Persuaders! (1971). However, the producers dropped the Show after having a hard time penetrating the United States audience.
His first Bond film, Live and Let Die (1973), earned more outside of America than his previous debut as James Bond (Diamonds Are Forever). He proceeded to star in other Bond films before bowing out after A View to a Kill (1985).
In the middle of times, there had been more accomplishments with appearances in movies like That Lucky Touch (1975), Shout at the Devil (1976), The Wild Geese (1978), Escape to Athena (1979), and North Sea Hijack (1980).
James Bond movies acted: Live and Let Die (1973), The Spy Who Loved Me (1977), A View to a Kill (1985), Octopussy (1983).
Timothy Dalton
Timothy Dalton acted the iconic James Bond character between 1987 and 1989. His mother gave birth to him on March 21, 1946. He was the oldest in a family of five, growing up in Colwyn Bay, Wales, where the family lived from his birth.
The Dalton family moved to Belper in Derbyshire (only south of Manchester), England, at four years old. Here, the youthful Timothy joined the neighborhood Grammar school in Manchester, where he flourished in sports and sciences.
He went to a few theater creations during his school years, including Shakespeare's "Macbeth," which propelled Dalton to make a profession on the stage.
In school, Dalton initially acted in "Arms and the Man," a George Bernard Shaw play in which Timothy played the brave conflict legend Sergius. Dalton kept on performing in front of an audience featuring in various creations, including "Billy Lair" at a neighborhood theater.
Dalton was entranced with acting early on, partly because of his granddads' roles as vaudevillians. Notwithstanding, his commitment to acting did not come until he saw an exhibition of Macbeth at age 16.
The young actor joined the Birmingham Repertory Theater, playing the lead in numerous creations under the course of Peter Dews. Simultaneously, he featured James Bond in The Living Daylights (1987) and Licensed to Kill (1989).  
Dalton landed the 007 roles despite facing competition from Sam Neill and Pierce Brosnan, who held considerations for the role. At last, his determination bumped him to the list of James Bond actors in order.
James bond movies acted: The Living Daylights (1987), License to Kill (1989).
Other movies acted: Hot Fuzz (2007), The Beautician and the Beast (1997), The Lion in Winter (1968).
Pierce Brosnan
Next on our list of James Bond actors in order is Pierce Brosnan. There is no denying Pierce's stellar performance, filling the screen with his strong charisma of James Bond.
The sad departure of his dad during his birth in 1953 did not stop Brosnan from rising to become an award-winning Irish actor. After his mom left to work in England
His entertainment career began at 15 when he left for London alone. Soon, he became part of a theatre group before progressing to the Drama Center of London. Years later, he won a role as a beguiling cheat in the NBC TV analyst series, Remington Steele.
The Show witnessed incredible success after launching in 1982, and this played a crucial role in getting Pierce picked as Roger Moore's replacement in the British Spy series featuring James Bond. However, his N.B.C. contract prevented him from committing to the movie entirely.
This unavailability led to the selection of Timothy Dalton for the James Bond role. Pierce continued his stint in the T.V. industry after completing the Remington Steele series in 1987.
In 1994, Brosnan finally took up the mantle of James Bond in the Agent 007 movie series. His first film in the series, GoldenEye (1995), made more than $350 million worldwide at Box Office.
The second, Tomorrow Never Dies (1997), brought in record profits for a Bond film in the United States. Brosnan had a way of drawing out the human side of the Bond character, consolidating that in The World Is Not Enough (1999).
His last movie as James Bond was Die Another Day (2002).
James bond movies acted: GoldenEye (1995), Die Another Day (2002), Tomorrow Never Dies (1997), The World Is Not Enough (1999).
Other movies acted: The Man (2014), Survivor (2015), The Foreigner (2017).
Daniel Craig
Daniel Craig held sway as James Bond from 2006 to 2021, making him the longest-serving actor playing the role of Agent 007. In over a decade, he featured in five movies in the series, closing out with No Time to Die.
Daniel Wroughton Craig had his birth on March 2, 1967, at 41 Liverpool Road, Chest, Cheshire in, England. His father progressed from being a trader to a steel erector, and Carol Olivia (Craig's Mom) held on to her job as a craftmanship instructor.
Craig boasts of a unique heritage that blends Irish, Scottish, and Welsh. His parents split in 1972 left him in the care of his more established sister Leah, who raised him in his mom's home. Nevertheless, this unfortunate incident did not waver his interest in acting.
An early visit to the Liverpool Everyman Theater his mom organized fueled his passion for acting. As a result, he began featuring in school plays at the age of six, making his debut in Oliver's Frodsham Primary school creation.
Roger Moore's Live and Let Die (1973) set up a chain of events in the heart of young Craig that resulted in him playing the iconic character.
Craig made several appearances in shows like Oliver, Romeo, and Juliet, Cinderella while at Hilbre High School in West Kirby, Wirral. At the age of sixteen, he progressed to the National Youth Theatre's group on their visit to Manchester in 1984.
Acting Career of Daniel Craig
Daniel Craig celebrated his first stage debut when featured as Agamemnon in Shakespeare's Troilus and Cressida. He worked hard to balance his career as an entertainer with the NYT while working in eateries as a server.
After this, he made several appearances when NYT visited Valencia, Spain, and Moscow. All this happened under the administration of chief Edward Wilson.
Craig's determination paid out in 1988 despite initial fizzling attempts during rehearsals at the Guildhall. Subsequently, he made it to the Guildhall School of music and Drama at the Barbican.
At last, Craig's film debut came in 1992 when he starred in the movie The Power of One. Notwithstanding, his global prominence did not come until 2001 when he starred as a supporting cast in Lara Croft; Tomb Raider.
His outstanding performance in Layer Cake (2004) singled him for different awards and contracts.
After completing his work in Munich (2005), where he featured under Steven Spielberg, he found his way into the James Bond series. The announcement came in October 2005 when the creators picked him as the next actor to play the iconic spy hero.
The past Bond actors like Sean Connery, Roger Moore, Timothy Dalton, and Pierce Brosnan have demonstrated that Craig fits the role.
Queen Elizabeth II delegated Daniel Craig as Companion of the Order of St. Michael and St. George (C.M.G.). The award came during the 2022 Queen's New Year Honors for his contributions to Film and Theater.
James Bond movies acted: Casino Royale (2006), Quantum of solace (2008), Skyfall (2012), Spectre (2015), No time to die (2021).
Other Movies Acted: Knives out (2019), Laker cake (2004), Knives out2 (2022), Dreamhouse (2011).
Conclusion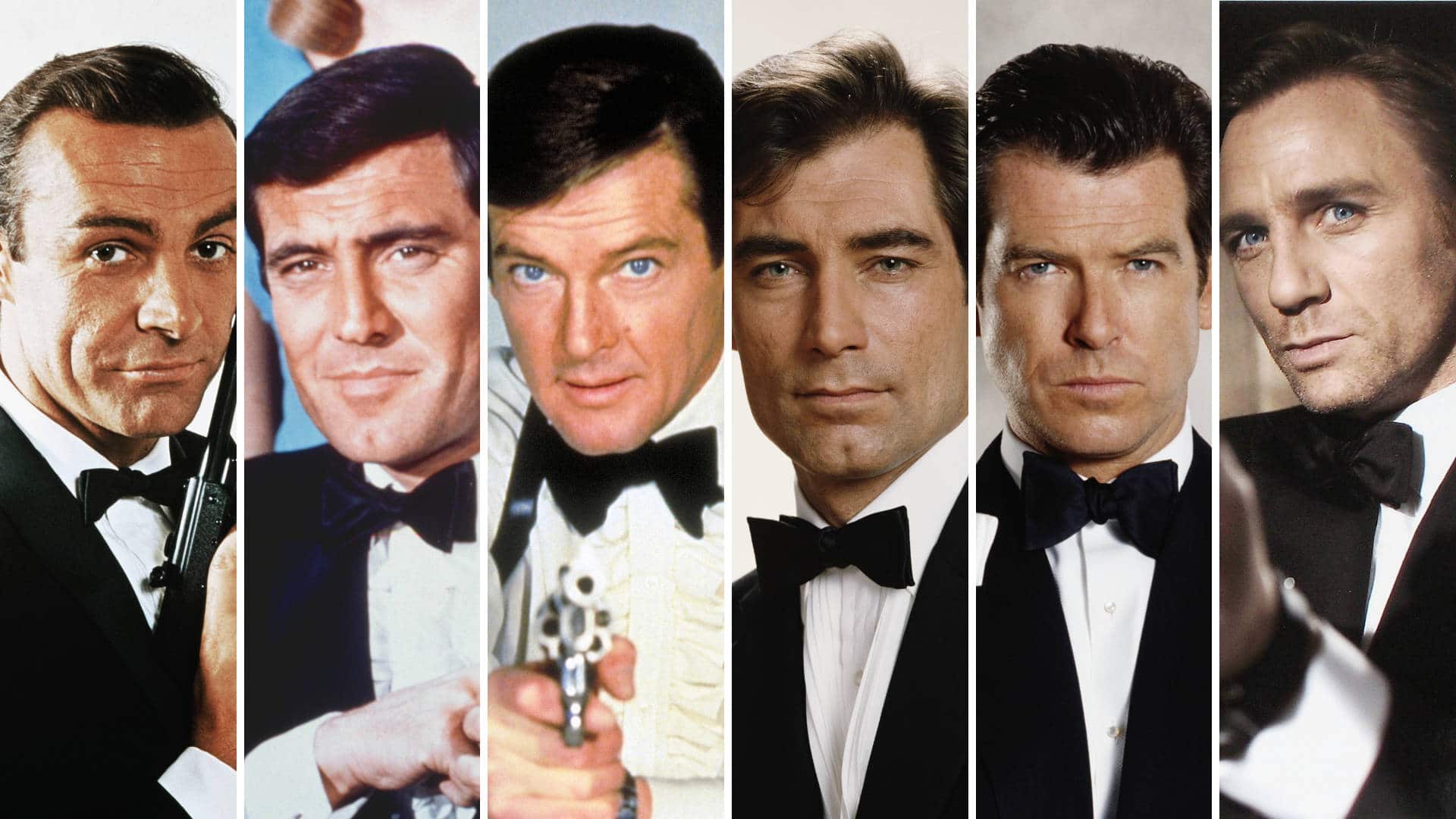 The British spy series of James Bond always has thrilled fans across the movie industry. Armed with twenty-seven movies, the film series has evolved the Bond personality considerably well. Daniel Craig's last performance was spectacular.
However, No Time to Die left us wondering who will don the iconic British super spy on screen. Several rumors have made rounds that we will have a female James Bond this time around.
This image might be actual after seeing the introduction of a female Agent 007 in No time to die.
Fans will miss the James Bond series and James Bond actors in order until the next installment, and we hope it comes soon. Please drop a comment for us and share this article with your friends.