If you're a lover of everything animation, buckle up because it's going to be an exciting, bumpy ride with the best animated movies on amazon prime.
This is so because a full-length animated film is undoubtedly unique, as can be widely agreed upon by everyone. 
For viewers ranging in age from young to older adults, Amazon's Prime Video service offers a sizable selection of animated films in various genres, interests, and audience demographics.
The best animated movies presently streaming on Amazon Prime are listed below.
1. The Adventures of Mark Twain (1985)
Cast: James Whitmore, Michele Mariana, Gary Krug, Chris Ritchie, John Morrison, Carol Edelman, Dal McKennon, Jim Smiley, Herb Smith, Todd Toles
Runtime: 86 minutes 
The existential journey of American novelist, comedian, and celebrity Mark Twain in the 19th century is the subject of this imaginative and frighteningly surreal narrative.
In "The Adventures of Mark Twain," an exciting add-on to the list of best animated movies on amazon prime, Twain intends to launch a hot air balloon into orbit and collide with Halley's Comet because he is tired of how harsh and impolite people are.
He is saved from death by stowaways from Twain's most well-known books, including Huckleberry Finn and Tom Sawyer.
They accompany him on a series of illuminating and terrifying adventures through time and space to reacquaint him with the sources of his writing. The storyline is a journey for both Twain and the viewer.
2. Bugville (1941)
Cast: Kenny Gardner, Jack Mercer, Tedd Pierce, C. Bagley Beetle, Carl Meyer, Stan Freed.
Runtime: 78 minutes
This is another plus of the best animated movies on amazon prime. The protagonist of this sumptuous, classically animated tale is Hoppity, a wandering grasshopper who goes back to his birthplace.
Sadly, it's a mess because "the Human Ones" purposefully destroy his bug pals' dwellings. 
Hoppity is moved to act to protect his neighborhood from future encroachment and to assist a skilled insect musician in receiving recognition. It is an exciting watch.
3. Clifford's Really Big Movie (2004)
Cast: John Ritter, Wayne Brady, Kel Mitchell, Cree Summer, Judge Reinhold, Jenna Elfman, Wilmer Valderrama, Jess Harnell, John Goodman, Kath Soucie, Grey DeLisle.
Runtime: 74 minutes
Millions of kids have found Norman Bridwell's numerous Clifford the Big Red Dog stories appealing. It is one of the best animated movies on amazon prime, a spinoff, and finale which gives the dog the ability to communicate, but the risks are plentiful in this adventure.
The plot centers on Clifford feeling bad and entering a carnival to win a competition that offers free food for life after overhearing a debate about the ostensibly massive cost of feeding such a large dog.
Notwithstanding, Clifford is incredibly amiable and adores his human family, especially young Emily Elizabeth.
4. Gulliver's Travels (1939)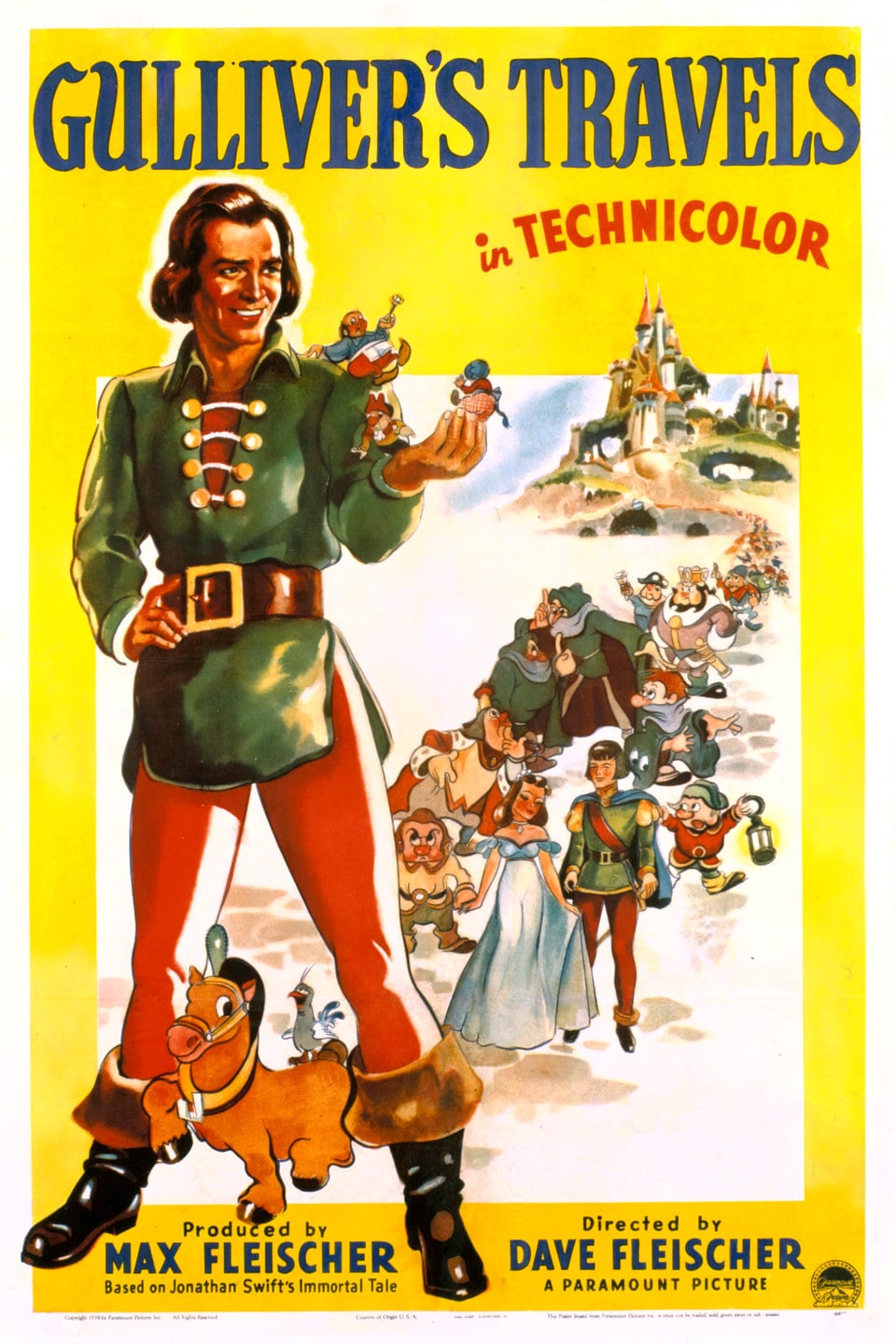 Cast: Jessica Dragonette, Lanny Ross, Prince David, Cal Howard,  Prince David, Jack Mercer.
Runtime: 76 minutes
Finding its way onto our list of best animated movies on amazon prime and being one of the earliest animated films ever created, this well-known, timeless tale made history in 1939 when it was first converted into a full-length sound film. It was initially released in the 1720s and was lauded as a scathing satire on human nature. 
From another perspective,  it is regarded as a literal tall tale about Lemuel Gulliver, an intellectual and explorer who journeys to numerous strange and beautiful worlds. Sit back for a journey through bizarre worlds.
5. Henry and Me (2014)
Cast: Richard Gere, Chazz Palminteri, Danny Aiello, Cyndi Lauper, Paul Simon, Austin Williams, Lucie Arnaz, Hank Steinbrenner.
Runtime: 67 minutes
Jack, a die-hard fan of the New York Yankees, receives a cancer diagnosis, and things quickly get worse for him. He undergoes surgery because he believes he is going to die.
While unconscious, a guardian angel poses as Henry, a Yankees executive, and takes him to a fantasy world where all the Yankees legends are still alive and playing.
As a result of Jack getting to interact with and compete against legendary athletes like Thurman Munson, Mickey Mantle, and Babe Ruth, his health back in the real world appears to be getting better. The presence of former athletes is heavily featured in the film "Henry and Me" to arrive at a special effect.
6. Hotel Transylvania 2 (2015)
Cast: Adam Sandler, Andy Samberg, Selena Gomez, Kevin James, Steve Buscemi.
Runtime: 89 minutes
Adam Sandler and several other comedians are featured in the movie as voices. At the request of his vampire daughter, Dracula's castle is transformed into a popular tourist destination for people of all races.
However, while the young couple is away on vacation, they leave their child behind with his workaholic grandfather and monster buddies.
They worry that the child isn't spooky enough and subject him to a series of tests to increase his spookiness. Watch out for whether they succeed or not.
7. How to Train Your Dragon (2010)
Cast; Jay Baruchel, Gerard Butler, Craig Ferguson, America Ferrera, Jonah Hill, T.J. Miller, Robin Atkin Downes, Kieron Elliott, David Tennant, Tony Anselmo. 
Runtime; 97 minutes
Hugely successful movie franchise "How to Train Your Dragon" spawned two sequels and TV remakes. This animated movie on amazon prime is a story that takes place during the Viking era on the Scandinavian island of Berk, where a powerful warrior and chief by the name of Stoick the Vast views his intelligent but small and awkward son, Hiccup, as a lost cause who will never be a valuable member of the horde in its never-ending war against a race of dragons.
Hiccup discovers a young dragon left behind in the woods, but he is utterly unable and reluctant to kill the small, amiable creature that he calls Toothless.
Hiccup decides to fly around on the back of his pet instead of following his culture's tradition of slaying dragons.
8. Minuscule: Valley of the Lost Ants (2013)
Cast: Stephen Apostolina, Cam Clarke, Jack Blessing, Giselle Eisenberg.
Runtime: 89 minutes
A feature-length prequel to "Minuscule," a well-liked, cheerful French TV show about an insect's daily life, is "Valley of the Lost Ants."
The movie has no dialogue, just like the show, and transforms into a physical comedy that envelops the audience and draws them into the intriguing world of bugs.
The plot is about a ladybug that joins up with ants to obtain a box of sugar cubes, only to fight a horde of vicious red ants who also desire the sweet treat.
The movie is quite compelling and can be found among the best animated movies on amazon prime.
9. Sausage Party (2016)
Cast: Michael Cera, James Franco, Salma Hayek, Jonah Hill, Danny McBride, Edward Norton, Seth Rogen, Paul Rudd, Kristen Wiig.
Runtime: 89 minutes
"Sausage Party," one of the best animation movies on amazon prime, is an adults-only twist on the "Toy Story" formula that explores the exciting lives of apparently nonliving that become alive when humans aren't around.
It is wild, hilarious, and unapologetically profane. In this instance, the food that is alive and resides in the grocery store acquires consciousness.
They all eagerly await being bought. But as soon as they realize this will result in their extinction, they conduct a breakout that quickly turns into a revolution.
10. The Snowman (1982)
Cast; Raymond Briggs, David Bowie, Mel Smith.
Runtime: 26 minutes
James, a little boy, wakes up to a snowy paradise outside his door and creates a snowman that comes to life. The youngster takes him inside and gives him a tour before heading off on a motorcycle and flying magically over Scandinavia, the UK, and the aurora borealis. 
They get there in time for a magnificent snowman celebration, but unfortunately, James has to go home, so the snowman melts away. The story wraps with a rather emotional separation.
11. Fantastic Mr. Fox (2009)
Cast: George Clooney, Meryl Streep, Jason Schwartzman, Bill Murray, Willem Dafoe, Owen Wilson.
Runtime: 87 minutes
Wes Anderson's use of stop-motion to depict this narrative in his distinct style was the ideal choice. The plot centers on Mr. Fox and his brilliant scheme to rob the three nearby farmers, Boggis, Bunce, and Bean.
Wes made one of the visually stunning stop-motion movies of the previous 20 years using this unique method of filmmaking, thereby putting this movie on our list of best animated movies on amazon prime. The film is not a waste of time.
12. Early Man (2018)
Cast: Eddie Redmayne, Tom Hiddleston, Maisie Williams, Timothy Spall
Runtime: 87 minutes
Next on our list of best animated movies on amazon prime is another Aardman Animations project. A group of cavemen in prehistoric times must embark on a big adventure to defend their civilization from an occupying lot. 
They plan to deal with the danger by challenging the invaders to a football game. This is undoubtedly worth watching because it upholds the exact standards that the studio is known for.
13. Mary and Max (2009)
Cast: Toni Collette, Philip Seymour Hoffman, Eric Bana, Bethany Whitmore
Runtime: 90 minutes
Possibly the best stop-motion animated film ever produced. It tells the tale of Mary and Max, two people who meet through an odd pen pal acquaintance while living on separate sides of the globe. 
Every figure in the movie has a unique aesthetic that suits the stop-motion technique well. The film also has voice acting and is beautifully shot.
Check out this animation  as one of the best animated movies on amazon prime if you want to treat yourself to some lovely, thought-provoking experience 
14. Chicken Run (2000)
Cast: Phil Daniels, Lynn Ferguson, Mel Gibson, Julia Sawalha, Timothy Spall, Imelda Staunton, Benjamin Whitrow, Tony Haygarth, Jane Horrocks, Miranda Richardson.
Runtime: 84 minutes
Chicken Run is also an Aardman Animations absolute masterpiece primarily based on "The Great Escape." The plot focuses on Ginger, a chicken who spearheads a daring escape attempt to save herself and all of her chicken companions from being turned into fresh chicken pies.
It features top-notch British humor and fantastic animation that still lives up to modern standards. You are going to be in for a swell time!
15. Shaun The Sheep Movie (2015)
Cast: Justin Fletcher, John Sparkes, Omid Djalili
Runtime: 85 minutes
Making an appearance on our list of the best animated movies on amazon prime is yet another well-known series.
In this movie, Shaun goes to the large city to look for a missing farmer, but he runs into trouble there too.  The film is unique due to its strict adherence to the show's framework and absence of language.
Since the characters can express their emotions through their behaviors, it makes the movie a triumph of slapstick humor and excellent stop-motion animation.
The animators were able to bring home their portrayal of how the characters are feeling through their actions.