With recent technological advancements, the term metaverse is becoming even more popular. Long before Facebook, Microsoft, and the other big bodies of the industry came, the metaverse was in process.
Today, metaverse has become a global phenomenon, and more ideas are introduced constantly.
What is The Metaverse?
If you have seen blockbuster movies like Ready Player One (2011) and Free Guy (2021), you have an idea of the metaverse. Both films give a good depiction of the metaverse and how it impacts our community.
The metaverse consists of 3D virtual worlds working together to enhance social connection. It's like a world of its own which you can access using virtual and augmented reality headsets. 
The 1992 science fiction novel Snow Crash first introduced the term 'metaverse.' Since then, there has been more production of several metaverses, advancing virtual reality technology. 
The metaverse has done more good than harm in the gaming industry and has become a prominent source of income.
However, user addiction and information privacy are common challenges facing this franchise. Still, some of the best metaverse games impact players positively.
Terrific Metaverse Games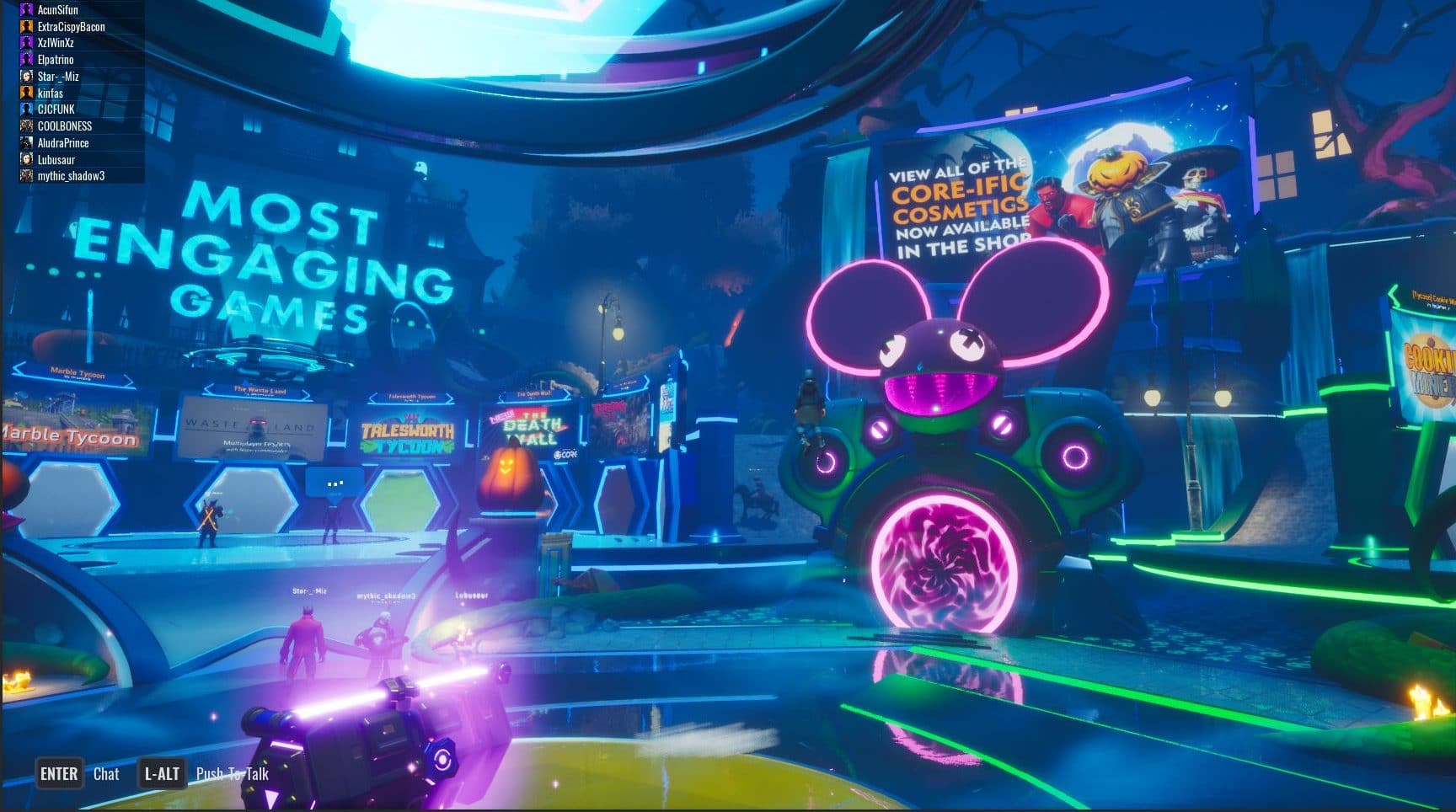 When it comes to gaming, metaverse games are making terrific milestones. These virtual reality-based games are breaking bounds in the industry. 
Without wasting any more time, here are some of the best metaverse you should look out for.
1. The Sandbox Game
The Sandbox Game is one of those futuristic games that makes you your own boss. It takes the layout of a community where you take control of your own piece of land. As the governor of the land, you can do just anything you want as long as you remain its owner.
To add to this, you can create your own NFT avatar and move around, exploring other lands. The gameplay is smooth and similar to Minecraft as it features block-like graphics.
The Sandbox has also proven to be a very promising game even at its alpha testing stage. Its partners include The Smurfs, Snoop Dogg, Atari, The Walking Dead, Care Bears, and the fashion brand Adidas. This makes it one of the best metaverse games though it's yet to hit the industry.
2. UFO Gaming
UFO is one irresistible game you must be on the lookout for in 2022. The game has a unique way of infusing a metaverse ecosystem into a virtual planet. It is also going to use the play-to-earn model where players earn to play games.
When it was first introduced, it bore the name Super Galactic. It comprises tournaments, quests, and PVP battle modes. It also introduces a marketplace where items like characters and weapons can be traded. 
3. Star Atlas
Star Atlas is one of the most promising metaverse games of 2022. It is an open-world space-based game with a perfect 3D intergalactic world. The game is powered by Unreal Engine's Nanite, which accounts for its eye-catching graphics.
In the gameplay, you drive spaceships searching for terrestrial and celestial assets beyond earth. You claim these assets as you find them and then mine resources you can trade with other players.
It also allows players to switch between perspectives of the game and navigate the environment as they wish.
The game pays you for your hard work in terms of assets that you have. As players advance in the game, they face bigger challenges that introduce bigger assets.
Furthermore, the game supports two distinct tokens which act as currency for trading. It also features an NFT marketplace where the actual buying and selling takes place.
Presently, Star Atlas is one of the top metaverse games on the Solana blockchain even before full development. Researchers predict this game will be a sensation. The big blocks of the industry are already funding its development.
4. Axie Infinity
Though the game debuted in 2018, it has bought its way into the gaming hall of fame. Today, it's one of the best metaverse games in the gaming industry. 
This is another game that takes the play-to-earn approach, drawing its inspiration from the popular Pokemon creation. In the game, players are to collect, raise and grow creatures known as Axies. From training these creatures, you can take them out for battles.
Axie Infinity is famous for being a source of income for many players. It currently has a $9 billion market cap and remains a legend in the NFT gaming industry.
In other words, it's a game that's going to keep making waves in subsequent years. 
5. Decentraland
Picture how cool it is for Sotheby, the world's oldest auction house, to open a digital version of its London gallery.
Where else could this franchise be if not in the magnificent Decentraland. Today, Decentraland is the first fully decentralized world with style close to that of Sandbox Game. 
In Decentraland, you can create, build, explore and do a lot more. To begin your journey in Decentraland, you will need a digital wallet and a web browser.
When you have these, you can start participating in events, begin chats with others, and more.  
Everything that happens in Decentraland can be likened to the real world. You can sell digital estates, rent, build, attend events, and do many other things you can do in the physical world.
6. Revomon
Revomon is an entirely brilliant idea built with a similar pattern as Axie Infinity. The creative part of this game is that you can retrieve items, breed creatures, and trade them. 
You can also pitch these creatures, called Revomon, to battle against other players. The game takes you into its unique metaverse, plunging you into a thrilling VR experience. It also takes you on an adventure where you get to meet and interact with creatures of the same kind. 
The play-to-earn game is readily available and can be downloaded from the developer's site. You can also pick Gorlit, Zorelle, and Deksciple to accompany you through the world of Revomon when starting off.
7. Blockchain Monster Hunt
Blockchain Monster Hunt draws its inspiration from Pokemon GO, allowing players to battle and hunt monsters on the blockchain.
This spectacular game is the first to appear on multiple blockchains. It is also the first NFT game to run on the blockchain itself.
The gameplay pattern is like many other Pokemon-inspired games. You are to hunt and capture creatures and use them for battle. It stands out as a free play-to-earn game that requires no capital to begin.
It is currently on the Ethereum, Polygon, BSC, and Ambros blockchain.
8. Magic Craft
If you're a fan of magical arts and love a magical-themed metaverse game, Magic Craft is right for you. It was developed on NSC and is powered by the Unity game engine. 
The game stands out for its use of blockchain technology instead of centralized MMORPG platforms. It also gives room for a free-to-play mode aside from its P2E mode. 
The goal of the game is to team up with other players to fight wars against rival clans and conquer them. It introduces the characters of seven powerful elders and their empires to defeat for bonuses. 
Magic craft offers a variety of quests, tournaments, wars, and P2P battles. Therefore, players can participate in all these through the characters known as heroes. Items like spells, armors, and weapons all enhance the Heroes' abilities.
Your Heroes and other items can be bought in the Magic Craft's NFT Marketplace. It also features its currency used in trading and enriching players.
9. Treeverse
Unlike many other metaverse games, Treeverse is fantasy-themed with MOBA-style combat. The game idea is a spin-off from NFTrees, an earlier NFT project by Loopify. 
It came through successfully and is a place to hang out like a virtual social media realm. Notwithstanding, you can earn private homes in Treeverse.
All you need to get into the game is a metamask wallet. It also involves a marketplace for trade with its introduced currencies.
There are still ongoing upgrades to bring out the best of the game. However, the timeline for the full Treeverse experience is yet to be released.
Conclusion
Some say that the metaverse is the future of technology. In many ways, this is true, and its modern evolution proves that fact. It will be worthwhile to begin building merchandise in this franchise from now. 
Metaverse games are not just worthy of your investments but are also fun to play. If you are a gaming fanatic, you've just begun your journey with these terrific metaverse games.