If you are looking for car movies to fill your binge list, you've come to the right place. Follow me as we explore the most famous car movies.
Also, the films here deliver entertaining action scenes that will keep you glued to your seat.
This list has you covered whether you are looking to catch some action with American sports cars or the European models.
One sure thing is that there are enough car chase and racing scenes to go around.
Note that what you are about to read contains some vintage action and modern movies. Alright then.
Strap in and get set for an epic ride into the most famous car movies.
1. Mad Max: fury road (2015)
Director: George Miller
Star cast: Tom Hardy, Charlize Theron, Nicholas Hoult, Hugh Keays-Byrne, and Rosie Huntington-Whiteley
IMDb rating: 8.3
I would have loved more depth in the plot, but we are left with crazy action that will keep you on your toes throughout the runtime. The pacing is good and stayed away from fast-cut altering.
Nevertheless, the entire plot revolves around one vehicle pursuit, which is a remarkable achievement for such a hollow plot. Charlize Theron might be the champion in the film, but Tom Hardy delivers a scintillating performance as Mad Max.
He does a lot of cool stuff while keeping his mouth shut. On the other hand, Charlize takes the greater pie in the movie with her boss persona.
This film should be on your list if you look for the most famous car movies. Its direct action and desert theme will intrigue you and give you some energetic scenes. Also, you get to see crazy stunts with vehicles you never thought possible.
2. Taxi Driver (1976)
Director: Martin Scorsese
Star cast: Robert De Niro, Jodie Foster, Albert Brooks, Harvey Keitel, Leonard Harris, Peter Boyle, and Cybill Shepherd
IMDb rating: 8.3
The first on our list of the most famous car movies is Taxi Driver. This film was a hit when it popped up on screens in 1976. We can't deny that Scorsese did a great job making this film that revolved around the existence of one cabbie from New York.
Play on your screen, and you will find a work of art that has influenced numerous different motion pictures. The actual story might be basic, but it turns out that keeping it simple is beneficial.
Watching the film feels like you're going through the personal journal of the driver. You will love everything from the cinematography to the lighting and composition. In addition, the film portrayed New York city flawlessly.
Let's track a bit back to the acting. Throughout the film, DeNiro was absolutely in character and did not hold himself back from adding his lines. Next, Jodie Foster delivered a stellar performance, blending a freezing and stunning look throughout the film.
It would be best if you gave this one a try. Nevertheless, let's pull the curtains on this and head to the next film.
3. Ford vs Ferrari (2019)
Director: James Mangold
Star cast: Matt Damon, Christian Bale, Jon Bernthal, Caitríona Balfe, and Tracy Letts
IMDb rating: 8.1
This film depicted an actual historical event, hanging on to the rivalry between the two racing titans. It opens up to an angry Henry Ford, desperate to turn the tides of dwindling vehicle deals.
Having minimal options, Ford turns to car racing as the company's future. However, the company faced the arduous task of beating the current titans, Ferrari. I like how this movie gives a backstory to the arrival of the iconic Ford GT.
The plans seem to proceed well, bringing in Carroll Shelby as the car designer. He partners with Ken Miles to make a vehicle that can reach 200 miles per hour at 7000 RPM. Although the tests were hazardous, Shelby believed he can crack them.
Ford vs Ferrari is indeed a car movie, with much of its focus fixed on vehicle development. It pushes most of the action to the later part but you will enjoy the entire car development process.
Car enthusiasts will love the roaring engines as Miles takes the car around the test track. Nevertheless, you can feel the stress of developing and testing a new vehicle. Carrol Shelby never backed down despite getting disappointing results.
I truly cherished this film's touch, and I hope future dashing motion pictures gain from it. The acting from Matt Damon and Christian Bale will immerse any viewer in the car adventure. Indeed, this film's fame will not go away any time soon.
4. Rush (2013)
Director: Ron Howard
Star cast: Chris Hemsworth, Daniel Brühl, Olivia Wilde, Alexandra Maria Lara, and Pierfrancesco Favino
IMDb rating: 8.1
This biographical sports film centers around the rivalry between two accomplished formula-1 racing drivers, Hunt and Lauda.
Daniel Bruhl steals the show with a fantastic performance that will make you feel like you're watching the real Lauda.
You will see how robust competition can bring motivation in this film. Some fans would argue that the movie had all it takes to win an Oscar, but we will focus on the thrills it offers.
The film explores everything about motorsports, from the race tracks to the love lives of the drivers. Nonetheless, it doesn't shy away from showing the mishaps in the racing world. There is no doubt that this film will keep you engaged from the opening scenes.
5. Drive (2011)
Director: Nicolas Winding Refn
Star cast: Ryan Gosling, Carey Mulligan, Bryan Cranston, Christina Hendricks, Ron Perlman, Oscar Isaac, and Albert Brooks
IMDb rating: 7.8
This 2011 action movie shows director Nicholas Refn at his best. The opening scene will leave you with the kind of suspense that will make you want to see more. Indeed, it is a fantastic movie with cars as its core theme.
As you watch further, you will become more engaged because of the gradual unfolding of the characters—both halves of the film pack action sequences that will cause a deep sense of shock and pleasure. Also, the car chase scene was epic and brilliant.
You will love how the scenes flow into each other and the impressive soundtrack. The plot remains straightforward but throws in some action twists now and then. This film is not a boring car movie.
6. Taste of Cherry (1997)
Director: Abbas Kiarostami
Star cast: Homayoun Ershadi
IMDb rating: 7.7
This film is a phenomenal movie, with director Kiarostami at the helm. It has a delayed storyline but outranks other films among the most famous car movies. You will feel compassionate about the characters because of the film's dynamics.
Homayoun, the main act in this film, drives through a city suburb searching for someone willing to bury him after he commits suicide.
It is not an action movie but a drama that slowly unfolds. The first few people he picks up the decline to bury him despite having a huge paycheck if they do.
This film shows that driving can be so much more. It explores the discussions on life and suicide with the main act inside his vehicle. Nonetheless, we never know which choice Mr. Badii picked as the film ended in a cliff-hanger.
7. Duel (1971)
Director: Steven Spielberg
Star cast: Dennis Weaver
IMDb rating: 7.6
This film is entertaining with a slick storyline that'll leave you speechless. It is an epic tale of confusing road rage. Who would've thought that a married man's journey through California would be life-threatening?
It is a classic film that will leave you wondering what Mann did to warrant the cunning attack from the truck driver. Mann tries to stay alive by fending off attacks from the truck driver. Nevertheless, the truck driver is bent on killing bane using his huge vehicle.
You will enjoy this car battle despite the straightforward storyline. In a twist of events, Mann decides to face off the truck rather than escape it.
Only then did he win the physical and mental fight for his life. Award-winning, Director Steven, did a fantastic job directing this splendid and exciting Movie.
Also, Dennis Weaver plays his role excellently and brings any viewer into the mental contest with the dusty old tanker.
8. Baby driver (2017)
Director: Edgar Wright
Star cast: Ansel Elgort, Kevin Spacey, Lily James, Eiza González, Jon Hamm, Jamie Foxx, and Jon Bernthal
IMDb rating: 7.6
This film comes loaded with great characters, a strong plot, and excellent acting. The pursuit scenes in it dominate the series, giving certain vibes that will intrigue and entertain you.
In the car chase scenes, you will find similarities with Bullit, French Connection, and the Italian Job films. Also, the music adds to the fun, giving us tunes from an entire lifetime.
This film is one of the most famous car movies with unadulterated adrenaline action. Hop behind the wheel and follow Edgar Wright as he unravels this epic heist movie.
The getaway driver ends up in a heated pursuit as he drives to evade an angry gangster from a heist gone wrong.
9. Collateral (2004)
Director: Michael Mann
Star cast: Tom Cruise; Jamie Foxx, Jada Pinkett Smith, Mark Ruffalo, Peter Berg, and Bruce McGill
IMDb rating: 7.5
Collateral is a masterpiece by the director Michael Mann and stars Jamie Fox (Max) as a cabbie with dreams of owning his own company, "Island Limo ." Max becomes gifted at knowing the most private aspects of his passengers' lives by simply looking at their clothes.
An uncanny plot twist pulls Max into a killing game with a smooth contract killer minutes after securing the phone number of his crush. It soon turns bloody when the police believe Max is carrying out the killings.
After that, Max tries to evade the police while taking his passenger to his last call. This film is not one of those loud car action films, but it has elements that will intrigue any car enthusiast. Nonetheless, the focus is on the contract killer, with his quiet demeanor.
Tom Cruise, Jamie Foxx, and Jada Pinkett Smith play their parts well in Collateral, and together they deliver a stellar movie.
10. Fast Five (2011)
Director: Justin Lin
Star cast: Vin Diesel, Paul Walker, Jordana Brewster, Tyrese Gibson, Chris "Ludacris" Bridges, Sung Kang, Tego Calderon, Don Omar, Gal Gadot, Dwayne Johnson, and Matt Schulze
IMDb rating: 7.3
Fast Five's storyline may be predictable, but that doesn't stop it from delivering so much fun. The characters entertain in a way that will make you love them. However, the film reserves its most badass scenes for Dom.
Most of the film's strength comes from the solid chemistry between Dom's team. You will find fun, strategy, and all-out action among them, and the action scenes will keep coming till you've expended the run time.
Many critics say that this movie saved the Fast and Furious Franchise and can easily see why. The whole crew keeps reeling up new stuff to keep you in suspense. What do they have planned for the next scene?
Fast Five has rightfully earned its spot among the most famous car movies.
11. Two-lane Blacktop (1976)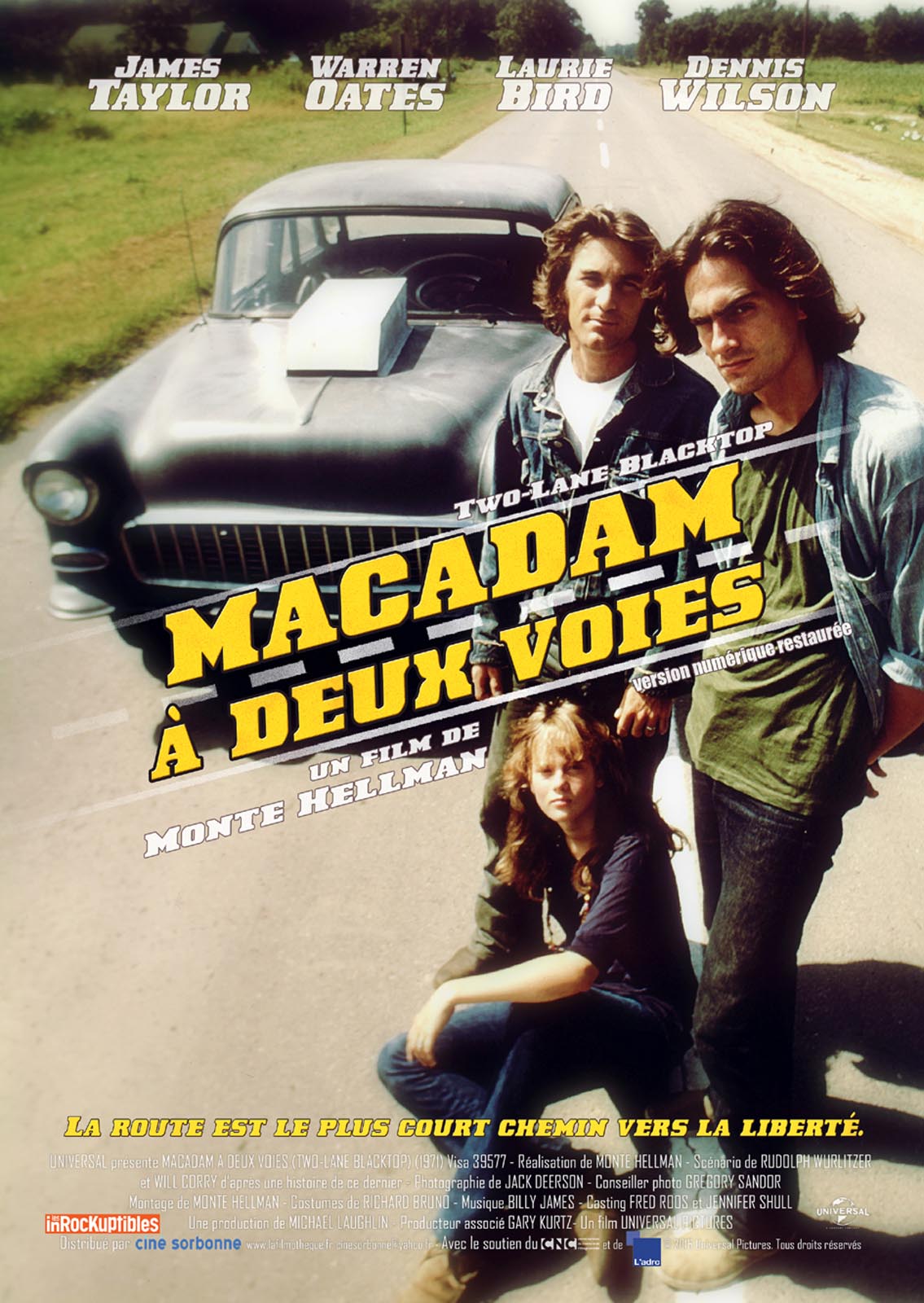 Director: Monte Hellman
Starring: James Taylor, Warren Oates, Laurie Bird, Dennis Wilson
IMDb rating: 7.2
This title is an excellent movie for those who love to recollect the times of home-constructed speedsters, racing, and when America was at its best.
The film follows the lives of a mechanic and a driver as they live only to race and maintain their 1955 Chevy.
The duo soon meets an overbearing GTO driver who agrees to race them to New York. Notwithstanding, they stand to lose their cars if they lose the race.
Unlike Vanishing Point, with lots of fantasy, Two-lane Blacktop has zero fantasy plot, sticking to the street, a 55 Chevy, two companions, and a drifter.
Furthermore, it is anything but a street film, giving you a ride-along in unremarkable and skeptical brilliance.
12. Holy Motors (2012)
Director: Leos Carax
Star cast:  Denis Lavant, Édith Scob, Eva Mendes, Kylie Minogue, Elise Lhomeau, Michel Piccoli, and Jeanne Disson.
IMDb rating: 7
This film knows how to change gears every second, uncovering new amusements as it glides along. That level of unpredictability gives it a definitive place among the most famous car movies.  
The film follows Mr. Oscar as he dresses up in different costumes, performing various roles in other locations around Paris. A white limousine lies at the center of all the action.
The film's invigorating inventiveness, dark satire, and tone will hit a solid harmony with viewers searching for something new, and it will take them someplace they haven't been before. Nevertheless, this film is a true-to-life blowout to the two eyes and ears.
13. Death Proof (2007)
Director: Quentin Tarantino
Star cast: Kurt Russell, Rosario Dawson, Vanessa Ferlito, Jordan Ladd, Rose McGowan, Sydney Poitier, Tracie Thoms, Mary Elizabeth Winstead, and Zoë Bell
IMDb rating: 7
Death Proof brandishes a storyline that will intrigue any car enthusiast. Although the antagonist uses car accidents to carry out his deadly acts, it is still an engaging film for car lovers, and Tarantino conveys a strong grindhouse slasher.
The film follows Mike, a Hollywood stuntman, as he meets his match following a killing spree. A group of girls is set to fight back against this sarcastic monster that makes his victims' deaths look like car accidents.
Don't watch this film if you can't stand loads of blood. Notwithstanding, the movie shines with thoughtful discourse, cool activity successions, vehicle pursuing, and ridiculous characters.  
14. The Italian Job (2003)
Director: F. Gary Gray
Star cast: Mark Wahlberg, Charlize Theron, Edward Norton, Seth Green, Jason Statham, Mos Def, Franky G, and Donald Sutherland
IMDb rating: 7
Would there be any bank heist without fast getaway cars? After a betrayal, Charlie calls back the team to steal from one of their own who betrayed them years before. The main thrill involves an armored car carrying the gold of the betrayer.
Get past that, and you will be intrigued by the car chase scene in this film. Can you imagine a Mini Cooper going up against a helicopter?
Nevertheless, the action doesn't end there as it pulls a Ford Bronco into the mix. The Italian Job is an entertaining movie that beautifully brings cars into action.
15. Repo Man (1984)
Director: Alex Cox
Star cast: Harry Dean Stanton and Emilio Estevez
IMDb rating: 6.9
This American science fiction black comedy film centers its plot in Los Angeles. It mixes car action with extra-terrestrials. Join in to witness the action of repo men as they seek to recover a car rumored to contain aliens.
The film will excite vintage car enthusiasts. At almost fifty years old, we can call it a classic car movie. Nevertheless, you will enjoy its fun as it revolves around a stolen Malibu.
Pull this film up on your screen if you are looking to have a good laugh at some vintage action.
Conclusion
The movies on this list will be worth your viewing time, and the loud noise of roaring engines will excite you as you binge-watch these films. Nevertheless, it is a blend of old-time action and modern car movies.
Please let me know which of these movies you think is the best. Still, you can drop your preferred suggestions for the most famous car movies.