Are you wondering what is left to watch on Netflix? Maybe you are worn out from the long list of crazy shows and over-hyped movies, and you are looking for a new genre to feed your eyes.
Religious movies on Netflix are beautiful movies to check out.
There are still a lot of families and holiday-centric movies to click on the streaming platform. These movies will make you feel relaxed after a long and arduous week.
However, sitting back and tuning into a religious film might leave you revitalized and your faith strengthened.
The religious movies on Netflix will boost your beliefs and heal the broken-hearted for people of faith. Watching these movies is a great way to remind yourself that there is always light at the end of the tunnel.
Whether you are looking for movies that directly retell stories in the scriptures or faith-based films, Netflix has an excellent selection for everyone.
You might be surprised to see some familiar cast, such as Jurnee Smollet-Bell, who stars in Friday Night Lights and Lovecraft Country.
The great thing about religious movies on Netflix is that they can be watched with your entire family. There is no age restriction, and it is a great way to keep your family bonded during the weekends aside from camping trips.
Religious movies help you explore specific topics in the scriptures using visual story-telling. These movies are full of suitable lessons and faith-boosting moments to keep you revitalized for the new week with word-for-word adaptations.
Get your popcorn and your blanket ready because these religious movies on Netflix will keep you occupied all night.
1. The Gospel of John (2003)
The chances are that you've read the narrative of the Gospel of John as long as you own a bible. The movie quickly begins with a narrative of John 1:1's "Word of Life," which sets the scriptural tone used throughout the film.
This epic three-hour movie explores in detail the accounts of John. John's report does not follow the same pattern adopted by the other three gospels, which begin with the birth of Jesus Christ, and it starts with the ministry of John the Baptist as he introduces Jesus to the crowd.
After that, you are treated to a first-hand experience of Jesus Christ as he chooses his disciples, teaching them first, and the masses about himself and the Kingdom of his Father. This film will draw you closer to the life of Christ.
The film explores the miracles performed by Jesus as he skillfully avoids a dangerous mob of Jewish religious leaders on his journey to Calvary. It beautifully depicts the political and religious climate of the days of Jesus Christ.
The Gospel of John is filled with intense passion as it skittles down the narrative at Golgotha. It is a stack difference from Mel Gibson's The Passion of the Christ. The film takes its time to explore the glorious resurrection of Jesus and his last days with his disciples on earth.
This film will keep you and your entire family entertained as well as refreshing. It tells the story of Jesus like never before, and it is one of the religious movies on Netflix that subtly proclaims faith to its audience.
2. The Healer (2017)
This movie will uplift your spirits and leave you beaming with a smile. It is an excellent choice if you are looking for an urban religious film to pass the night. The film begins in London, where a young man's life has gone sour.
Alec is a mechanical engineer, and he runs a small business called The Healer that fixes appliances. However, bad gambling decisions soon place Alec in debt and financial trouble with some dangerous guys.
This religious movie on Netflix has Alec's life turned around when an ad shows him as The Healer. After getting into debt, his uncle Raymond shows up and offers him a way out.
He will clear all of Alec's debts if he leaves the city of London for Nova Scotia for a year.
Alec takes the offer and jets off to Canada with nothing to lose. He meets a local vet, doctor Cecilia, who agrees to publish his business ad in the local paper in the small town.
However, the advert refers to him as The Healer without stating that he fixes appliances.
As soon as the ad is public, the townspeople trump to his house, hoping to heal their various sicknesses. Surprisingly, the people leave with the healed claims, leaving Alec frustrated.
The film evolves into a more magical genre. Alec is faced with a difficult choice when his uncle comes to the Canadian town and reveals a family secret. Alec faces uncertainty from these new revelations about his family.
The exciting feature of healing and faith places this movie among religious movies on Netflix. It is worth every bit of time you spend watching it. The film brings in so much life and relates to our everyday experiences.
3. Full Count (2019)
Some so many young men fought hard to escape their hometowns to become successful, suddenly coming back with nothing to show for it.
This movie tells a similar tale about Milton, who has to give up his dreams of playing professional baseball and return to his hometown.
The film brings radiance of triumph after the perseverance and the struggle to keep your dreams alive. It begins like a baseball movie in which a young prodigy hijacks the world as he flies his way to the big leagues and the hall of fame.
The world is swept off his feet at that moment, and he comes tumbling down like a loser. The movie explores how faith and hope can rescue us from the worst facets of life. Milton is dealt a significant blow inside out.
Despite his achievements of pitching his high school team to the state championship and landing a college scholarship, life hits him hard. His father dies from a heart attack, and the former pitcher he replaced commits suicide.
Milton sees his winning arm damaged by an injury when a DUI hit and run put him on a hospital bed. It is a film told from the eyes of Milton. With nowhere else to go, Milton returns to his home.
Milton and his mom are forced to accept David to work on the farm. With the death of a victim of the hit and run incident, Milton gets jailed with vehicular manslaughter charges leveled against him.
David brings hope to the life of Milton, and he makes Milton believe that with hope, things are not as dark as he sees. This religious movie on Netflix will boost your hope, and it is one of the best religious movies on Netflix.
4. Riding Faith (2020)
The film explores the lives of Grace and her parents as they move to the country after Purchasing a ranch. The relocation is to help them bond together as a family.
Grace's father is killed in action after returning for another tour in the military, leaving Grace and her mother to take care of the ranch.
This film provides an inspiring Christian story with solid use of patriotic elements. Following her father's death, Grace turns away from her faith, leaving her mom to fight for their home alone against the bank.
This is one of the religious movies on Netflix that puts faith in God at the forefront. Pastor Williams offers to help Grace and her mom in the struggle. The film explores the hope that God will take care of you even in times of uncertainty.
The need to help others is also portrayed and pronounced in this movie. This can be seen when Grace and her mom's church family helped them when they were in need.
Yet, a few scenes show the dysfunctional relationship between Grace and her mom.
Riding Faith is a wholesome Christian movie that is worth your time. When selecting religious movies on Netflix to binge-watch over the weekend, make sure you pick this movie.
The film focuses on Grace and her mother struggling to keep faith and hope alive.
5. Freshman Year (2019)
This faith-based Christian film is about an African American male, CJ, and his girlfriend Marcella, leaving for college.
A romance ensues between them while in college. CJ has devoted his life to solid morals as he was raised in a strict and morally upright Christian home.
Marcella has a protective older brother raised by a strict and single mother. Overwhelmed by the newfound freedom, CJ begins to struggle with independence.
He tries to balance his faith and is faced with peer pressure and falling in love.
Wow, when two young people are in love, anything can happen. CJ gets Marcella pregnant, and they both get bombarded with difficult choices they were not prepared for.
The film requires a more mature audience for much of its theme, but even the young ones will appreciate the depiction in this movie. The parents of CJ and Marcella step in to assist their children despite the turn of events.
Getting Marcella pregnant did not take long. The movie explores the irrational choices young people tend to make when they are away from the prying eyes of their parents. CJ and Marcella show no remorse for their choices.
This film stands out from other religious movies on Netflix with its storyline related to what many first-year students go through. Despite coming from a religious upbringing, CJ has a weak resistance to the world's temptations.
The environment where you are matters. If you are among like-mind Christians, the temptations to go against your faith are less.
The hip-hop musical theme will appeal to a young audience. With a well-executed storyline, this movie is one of the best religious movies on Netflix.
I was so happy that Marcella chose to keep her child and place her faith in God.
6. Never Heard (2018)
One of the best things about this movie is its depiction of how fathers can be fallible. They could be so focused on giving their children a particular kind of life, like the fathers of Diggy and Jalen.
Fathers could also focus too much on providing for the family to forget other aspects of being a dad. This issue can be seen with Monty, Paris's dad, and this film beautifully depicts different examples of black parents.
This is one of the religious movies on Netflix that focuses on how the action of fathers affects their children. Contrary to popular opinion, this movie is not trying to shame Aaron or Diggy for what they did.
The film presents the difficulties in being the kind of father people will look up to. It is not in any way trying to portray Monty as some respectable father for people to admire.
Aaron appears to be unfortunate after being separated from his mom, wife, and son. This happened because he was convicted of killing an older woman and a small child. However, Aaron claims he is innocent even throughout his stay in prison.
No one seemed to believe Aaron, leaving him to rot in jail. His son, Jalen, is left without a father and is forced to cope with the mother, who entertains a series of men at home.
Having no one to guide him, Jalen follows in his father's footsteps, partnering up with Diggy.
As Paris comes into his life, Jalen turns around and leaves his partner Diggy in the business. With the supplier demanding his money, Diggy is left at a crossroad where he will end up in prison or dead.
This movie has enough to entertain you.
7. One Last Thing (2018)
This film tells a beautiful story of finding love and family despite losing all hope. Wendell Pierce stars as a dentist in Florida and takes on the golf course alone every morning.
A detective soon informs him that his daughter has been found.
The news leaves Dylan perplexed as he is unsure he has a daughter. Dylan's assistant is clearly in love with him, but he doesn't see it. Now, I wonder why he is a lonely guy with such affection standing right before him.
Dylan keeps his relationship with his assistant professional. He heads over to Brooklyn with some reflection to meet his supposed daughter. He stalks her for a couple of days to know her. After seeing her for a few days, he introduces himself.
Lucy is suspicious and remains unwelcoming at first. After a while, they bond with Dylan returning to Brooklyn now and then.
The rest of the film explores Lucy's reason for going to the clinic. The father-daughter relationship is not smooth, with tensions arising from a few surprises.
As one of the religious movies on Netflix, this film takes a different approach and explores how difficult it is to create a relationship with a daughter that did not grow up with a father. One last thing gives us the happy ending we always want in movies.
In the end, Dylan reaches a place of personal fulfillment and happiness. It is nice that this movie is listed on Netflix, and this is an emotional movie that will have you crying at the end.
8. A Week Away (2021)
This oddly dated movie on Netflix combines Christian values and Disney-like demographics comprehensively. The film is a Christian romantic comedy that provides entertaining content with good theological depth.
It is not perfect in delivery, though, but it is enough to leave a profound impact on the lives of young viewers through the message of the Gospel.
Despite sometimes replacing Christian messages with feel-good tales with vague biblical support, it is one of the religious movies on Netflix.
The film stars Kevin Quinn as the character Will. Will is a teenager without parents offered a chance to skip juvenile detention by going for a Christian summer camp and falling for the daughter of the camp leader, Avery.
With a wholehearted welcome into the Christian community, Will decides to leave his past behind and embrace a promising future with Avery.
With an attractive and likable cast, this film will be appealing to the teenage audience.
Despite occasional flaws, the movie contains ample Christian messages from Will's journey in the Christian community. The contagious joy this movie emanates reaches beyond the screen to touch even the most cynical movie critics.
With enough youthful theme, this movie is excellent for non-Christian teens, especially those who have enjoyed High School Musical.
The film provides a window to peep into the Christian mindset, and it is filled with lots of singing, dancing, and expressions of kindness.
9. Like Arrows (2018)
This film shows two parents adjusting their parenting approach when they get overwhelmed with conflict, rebellion, and hatred. To everyone's surprise, the changes are more effective and have lifelong effects than imagined.
This is one of the religious movies on Netflix that focuses on parenting. The film explores the lives of a married couple as they learn how to parent their children properly. It is a beautiful movie that is well-acted.
When Alice becomes pregnant, she and Charlie decide to tie the knot. Eventually, Alice gives birth to three children, Ron, Kate, and Joshua.
The couple also adopts faith, an Asian girl. Charlie is shown to be a workaholic who barely has time for his children.
As they lose their children with Ron becoming an atheist, the couple seeks help from the church. There, they learn that they need to provide direction for their children.
However, they are faced with the dilemma of Ron ever coming back.
The film boasts of genuine dialogue and exemplary acting. Christians will enjoy their time watching this movie. There is so much for parents to learn from. However, the audience attracted to this movie is relatively small.
This is one of the religious movies on Netflix that teaches core parenting in a very dramatic and engaging manner. It is highly recommended.
10. God bless the Broken Road (2018)
This film is an epic drama that blends faith with military, small-town life, country music, and NASCAR. Coming from the writer of God's not Dead, Harold Cronk, this movie tends to an audience that is not interested in debates about recruitment or arguments.
With clear messages declared boldly within the dialogue, the film had blessed Amber's life in a way that may be fuzzy to people outside the target audience. The film is a solid Hallmark movie in every aspect.
The famous Hallmark actor Walker stars as Amber's gentleman caller. There are other familiar faces throughout the movie, such as Kim Delaney and Robin Givens. The Winner of American Idol, Jordin Sparks, also stars in the film.
This film is an excellent addition to your list of movies. It is one of the epic religious movies on Netflix.
Conclusion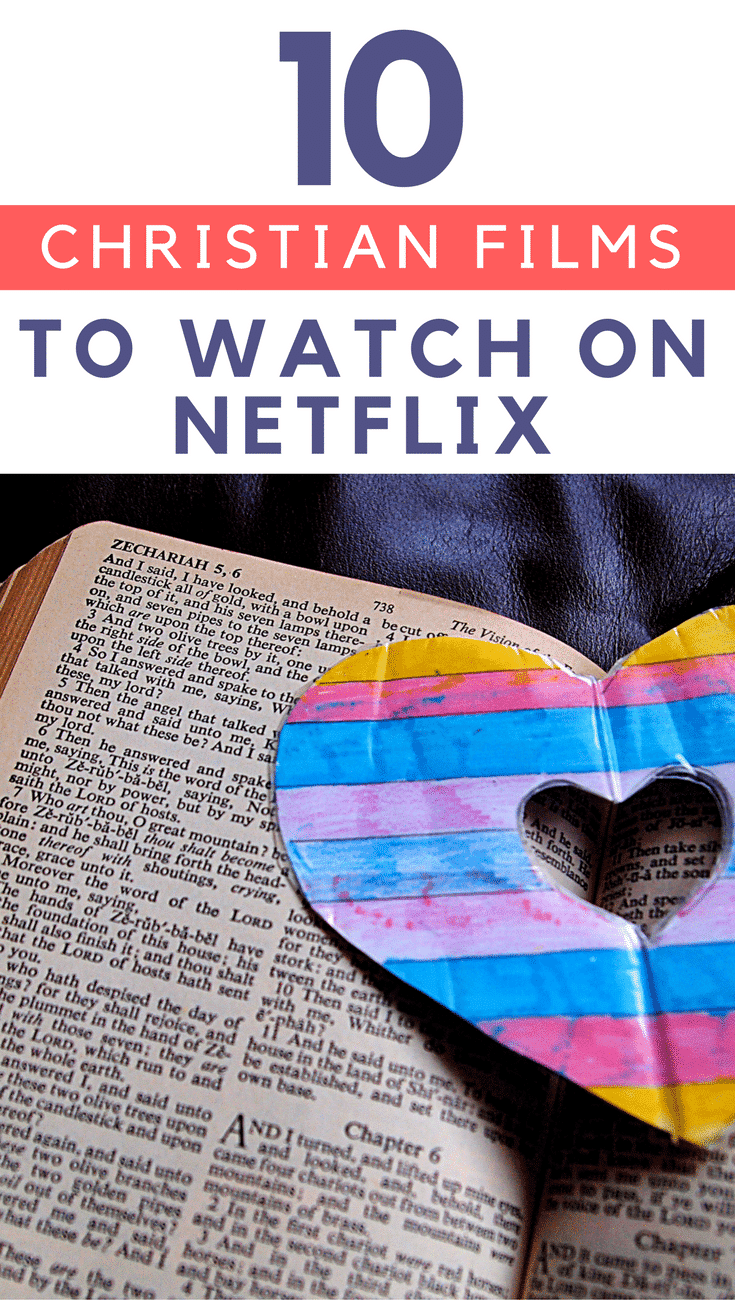 If you are hoping to chill over the weekend with some faith-based movies, then the films mentioned here are worth checking out.