Timothy John Schafer is a renowned American computer game designer. He is known for several aspects of game development; he founded Double Fine Productions in July 2000.
He has also worked at several game companies. He spends well over a decade at Lucas film Games, which later re-branded as Lucas Arts designing and directing several games.
He won a lifetime achievement award from Game Developer's Choice and BAFTA Fellowship. He has quite a lot of games to his name, and in this article, we will list the ten best Tim Schafer video games.
1. The Secret Of Monkey Island
The Secret of Monkey Island is a 1990 point-and-click adventure game developed and published by Lucas films Games.
The player takes on the role of Threepwood, a young man who has dreams of becoming a pirate, so he explores the seas and islands while solving puzzles.
The game was started in 1988 by three guys Ron Gilbert, Tim Schafer, and Dave Grossman. According to the developers, they weren't satisfied with the traditional adventure games available at the time.
This game focused more on the adventure part of the game, which they succeeded at doing.
2. Psychonauts
Psychonauts is a platform game developed by Tim Schafer's own company. It was first released in 2005 and initially published by Majesco Entertainment for all gaming platforms, and double fine later acquired the rights to the game, allowing the company to republish.
Psychonauts allow players to take on the role of Razputin or Raz, for short, a young boy gifted with psychic abilities.
The young boy runs away from the circus to sneak into a summer camp to join his likes with similar skills. He now finds his purpose; he realizes that something is going on at the base that only he can put an end to.
The game was based on Tim Schafer's idea while developing another game sometime back; he was now able to actualize his idea through his company, Double Fine.
3. Brutal Legends
Brutal Legends is an action-adventure video game with real-time strategy game elements created by Tim Schafer's company Double Fine.
He also directed the play, published by Electronic Arts for PlayStation 3 and Xbox 360. The game was released in 2009 in only America, Europe, and Australia.
Tim Schafer was inspired to create the game due to his past musical experiences. The game brings us Eddie Riggs, modeled after one Jack Black, transported to a fantasy world.
Eddie's Flying V guitar can tap into magical powers; he uses the power to lead the down-trodden humans against supernatural overlords.
The game is both an action-adventure and a real-time strategy game. It includes Sage Battles in both the single-player and multiplayer mode.
4. Costume Quest
This is a different-styled game built by Double Fine Production. Costume Quest is a party-based role-playing game; THQ published it in October of 2010 on all platforms.
When playing this game, the player controls a kid going trick or treat on Halloween night with their twin. They encounter a monster that kidnaps their siblings.
The player is now tasked to face the monster's leader and rescue their sibling. But in other to do so, The player must travel around the local neighborhood collecting items for their costume, candy and recruit fellow children as a team.
Tim Schafers and Elliot Roberts were co-writers and designers; he was also the creative studio director of the game.
5. Stacking
Stacking is a simple adventure puzzle video game developed by Double Fine Production and was published by THQ.
This wasn't a major title; it was one of the smaller ones. It was started being developed during the making of the brutal legends game.
It was launched in February 2011 for Xbox 360, PlayStation 3, Windows, and even a Linux version were released later.
Double fine's creative director, Lee Petty, formulated the game idea, and Tim Schafer was the game's creative director.
The player controls the smallest dolls and uses Charlie Blackmore, who can stack and unstack into larger dolls and use their abilities to solve puzzles to allow Charlie to free his older sibling and end child labor enforced by the antagonist, the Baron.
6. Iron Brigade
Iron Brigade was formerly called Trenched; This is a 2011 video game developed by Double Fine Productions, published by Microsoft Studios, and was directed by Tim Schafer.
This game is a downloadable Xbox Live Arcade title on the Xbox 360; it was later released for PC 2012. The game was announced by Tim Schafer himself at the Game Developer Conference.
Iron Brigade is a hybrid tower defense game and third-person shooter, set in a bizarre alternate reality after World War I.
The player control units from the mobile trench brigade to fight off the invading robotic troops called the Monovision. The player controls giant mecha-style robots with weapons.
The game had a complicated release because of its initial naming, "Trenched." This led to various trademark lawsuits forcing Double Fine to change the name.
Along with the renaming, they brought newer weapons and game modes for no additional cost.
7. Sesame Street: Once Upon a Monster
Written by Tim Schafer, Sesame Street: Once Upon a Monster is a video game developed by Double Fine Productions and published by Warner Bros. Interactive Entertainment in conjunction with Sesame Workshop. On October 11, 2021, the game was released for the Xbox 360 console in just North America.
Once upon a Monster is presented to us as a storybook divided into a number of chapters. Each of these monsters is plagued with some problem that needs to be solved by the Sesame Street monsters. These chapters are broken into many mini-games that utilize the Kinect controller.
Before developing this game, Tim Schafer split the company into four different development groups. Each group for each game, Once Upon a Monster, was the first to be completed, but it was the fourth to be published. Costume Quest, Stacking, and Iron Brigade was published before Once Upon a Monster.
8. Broken Age
Broken Age is a more recent Tim Schafer title; this game was game director Tim Schafer's first return to the genre since 1998.
Broken Age is a point-and-click adventure video game released for Microsoft Windows and every other platform, even on mobile and switch.
The game was developed in two versions, the first was released on January 28, 2014, and the second was released on April 28, 2015.
The development started as Fine Adventure as a kick-starter, Double Fine and two-player Productions, with an expected amount of $400,000 but later got far more than expected, around $3.45 million within a month.
This game features two playable characters; each seemed to be located in very separated worlds; interestingly, the players can switch characters mid-game, but unfortunately, these characters do not interact with each other in any direct way.
The character movement can be directed to move around the screen by pointing and clicking at the area you want to interact with.
This game was important to Tim Schafer cause it put him and his company back on the map after its massive success.
9. Day Of The Tentacle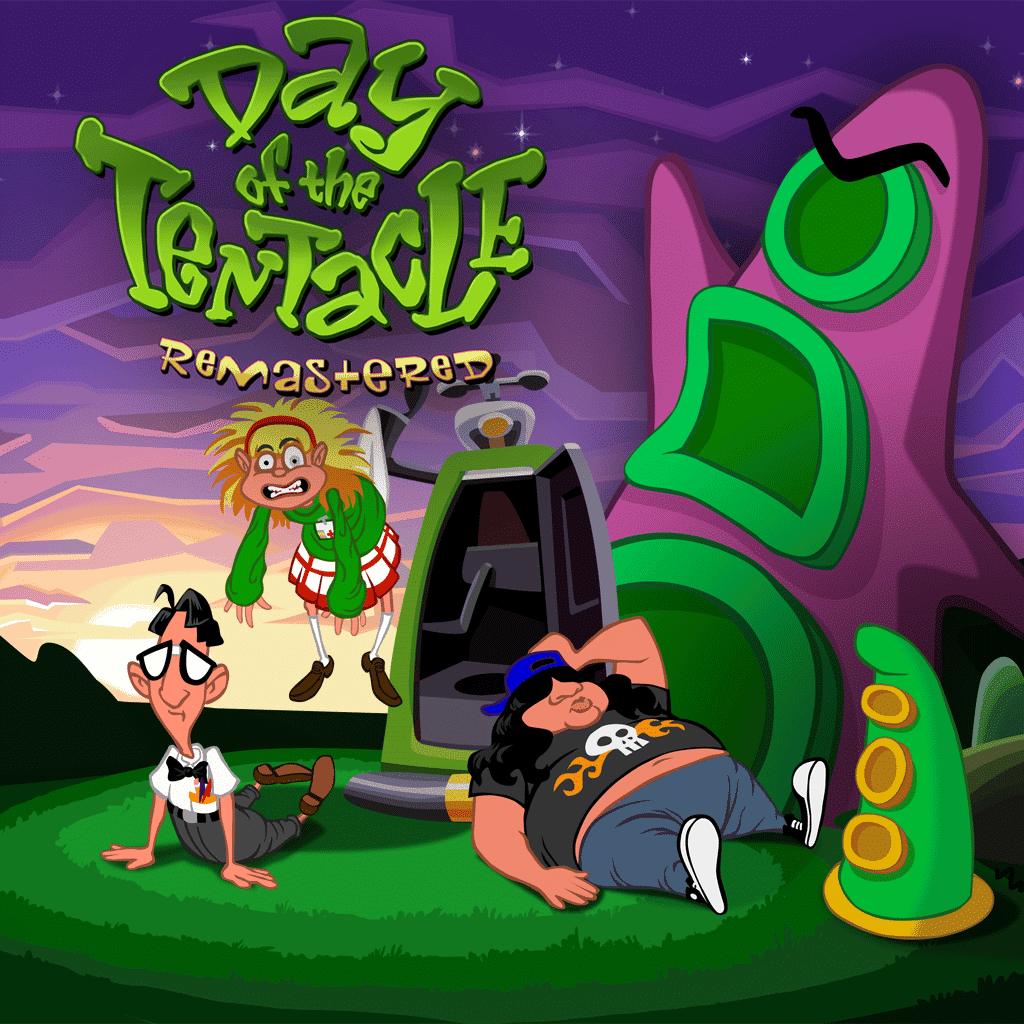 Let's go back to 1993 when Tim Schafer was still at Lucas Arts. Tim created the game; he was the producer, writer, and designer.
Day of the Tentacle plot follows Bernard Bernoulli and his friends Hoagie and Laverne attempting to stop the evil Purple Tentacle, a sentient being, from taking over the world with its gluey disembodied tentacles.
The player takes control of the trio and solves puzzles while using time travel to explore different periods of history.
Tim Schafer led the game's development, and it was available for Windows OS, Mac, Linux, PlayStation Vita, and a recent Xbox One release just this 2020.
10. Psychonauts 2
Initially released by Double Fine Production, Psychonauts 2 is a sequel to the original game. Developed by Double Fine and published by Xbox Game Studios.
The game was initially announced at the awards 2015 ceremony and released in 2021 for Microsoft Windows, PlayStation 4, Xbox One, and Xbox series X|S.
Like the original game, Raz – the character the player controls. A young acrobat tries his best to stop those who perform evil deeds within their psychic forces.
In Psychonauts 2, the Psychonauts try to learn who was really behind the kidnapping of their leader, unveiling a profound mystery surrounding the organization's founding and Raz's family history.
Tim Schafer has always expressed an interest in making a sequel to Psychonauts during the years of its first release, mainly because the game didn't perform well initially.
Still, he couldn't bring his dream to life because there weren't enough financial resources.
But in 2019, Microsoft bought Tim's company Double Fine Production as part of Xbox Game Studios, which allowed Tim to actualize his dream of a sequel for Psychonauts.
Conclusion
Tim Schafer is undoubtedly a prosperous man; he has multiple games under his belt. He has his own game company Double Fine and has made millions of dollars selling and publishing games. These are some of the best Tim Schafer video games, this list contains 10 of the most successful games he's ever worked on, and all of them earned tens of millions of dollars for him and the company he was working for at the time.